Brompton Black Edition: now in green and orange too
New Black Edition launched and available for a limited period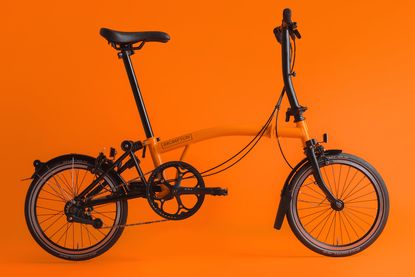 Brompton first launched its Black Edition in 2015 and has launched a second one since. For 2018, the third Black Edition Brompton will be available not just in black lacquer but also in Turkish Green, Black and Orange frame options.
Brompton says that the Black Edition bikes are inspired by city life at night and aimed at attracting a younger, urban cycling community, wanting to explore city life.
>>> Brompton goes electric with new folding e-bike
According to Stephen Loftus, Chief Sales & Marketing Officer: "Our first two Black Editions were a huge success reaching new audiences for Brompton. We are looking forward to bringing the Black Edition back this year, and are particularly excited by the introduction of our new premium Black Lacquer finish"
>>> Tannus Nymph solid tyres review
In the Black Edition bikes, the standard silver wheel rims, spokes and seat post arereplaced with black items. Prices for the Black Edition bikes start at £1000, with a wide range of options being configurable by the buyer, to meet their own requirements.
>>> Brompton S2L Superlight review
So you can get your Black Edition bike in the S, M and H model types and select either two-speed or six-speed gearing. There are also three choices of seatpost, two different saddles and three tyre options. In addition, you can add reflectors, battery or dynamo lighting, firmer suspension and a front carrier block.
The black lacquer finish is transparent, so you can see the bronze brazes on the frame through the lacquer. Brompton says that its new paint shop at its London plant has allowed it to offer this finish, for which it charges a £250 premium.
>>> Brompton: the perfect commuting machine?
Brompton says that the Black Edition bikes will be available for a limited time only. They will be sold through Brompton Junction stores as well as selected dealers.
Thank you for reading 20 articles this month* Join now for unlimited access
Enjoy your first month for just £1 / $1 / €1
*Read 5 free articles per month without a subscription
Join now for unlimited access
Try first month for just £1 / $1 / €1