Campagnolo releases details of 2015 mechanical groupsets
Chorus, Record and Super Record get updates for 2015: plus photo gallery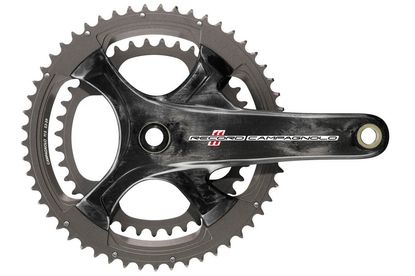 (Image credit: Campagnolo)
Italian manufacturer Campagnolo has launched updates to its top three road mechanical groupsets ahead of the 2015 sales season.
Chorus, Record and Super Record all get the same fundamental updates. This follows the company's stance that its Chorus range offers the maximum mechanical longevity and performance possible - and is therefore worthy of being raced at the very top level despite being third in its groupset hierarchy.
Some of the changes were first revealed in March when Campag launched Super Record RS, this was mainly a graphics-based update but the front mech and chainring tooth profile were modified to 'improve performance and reliability'.
Again, the major updates are based around the front mech and cranks, but this time are much more visually arresting with a four-arm carbon spider and crank. Much like Shimano's four-arm update, the move means that all three chainring size options will fit the same cranks so you can swap between 53/39, 52/36 and 50/34 depending on the terrain you're riding and your fitness without having to swap cranks arms too. It's just a matter of undoing the eight retaining bolts.
In another change that bears more than a passing resemblance to the Japanese alternative, the 2015 front mech gets a longer arm to increase leverage. Chorus's outer cage plate is aluminium, like the RS version, whereas Record and Super Record get a stamped carbon version to save a little weight.
Working the front mech are, as ever, the Ergopower shifters. In what appears to be a slightly confusing move, the internals of the left hand shifter have been altered, 'two clicks will now downshift from large to small chainring with a third click for adjusting trim when using more extreme gears', is what the press release tells us. Three clicks will upshift. Given that the opposition manage to make the same operation, by various means, with a single click it does make us wonder.
Moving to the rear mech, again Campagnolo has altered things with the aim of improving efficiency and performance. To do this, the architecture of the parallelogram has been modified and is said to move at a different angle and put the chain closer to the cassette. This should yield more contact between the chain and cassette so giving greater longevity. At the same time the shift quality has been worked on for larger cassettes. As you'll see from the pictures, the carbon plates that form the rear mech are now more sculpted for a more flowing and organic look.
The Skeleton brake calipers remain unchanged. Being early days the UK pricing has yet to be set.
Contact: www.campagnolo.com
Thank you for reading 10 articles this month* Join now for unlimited access
Enjoy your first month for just £1 / $1 / €1
*Read 5 free articles per month without a subscription
Join now for unlimited access
Try first month for just £1 / $1 / €1