Endura releases its fastest ever skinsuit previously only made for pros
Scotland based clothing brand has released new aerodynamic clothing and a helmet that has been designed in conjunction with the Formula One aerodynamacist and engineer Simon Smart to be the fastest ever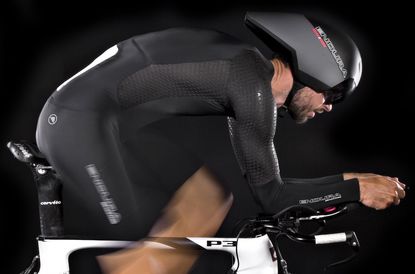 Previously only available to pro athletes, Endura has finally released the Encapsulator skinsuit to the public, alongside a road race version, with pockets and the new Aeroswitch helmet.
The suit was notably worn by the Movistar Team and by Alex Dowsett in his successful Hour Record attempt. The Aeroswitch helmet was first seen at Eurobike.
According to Endura, "the new aero collection is faster, more slippery and yields greater watt savings than its best performing competitors."
Working in conjunction with the aerodynamacist Simon Smart and his company Drag2Zero, Endura has used a thorough combination of rapid prototyping, computational fluid dynamics, wind tunnel and real world data capture to optimise the products.
Crucially, Drag2Zero claims to have developed the new clothing and helmet to be aerodynamic across a range of speeds.
This may sound obvious, but to date many products have only been aerodynamically tested at set speeds, typically 45 or 50kph.
This can result in bikes or equipment possessing an aerodynamic sweetspot at these speeds, however it also means that the fastest skinsuit at 50kph may not be the fastest suit at 30kph.
By developing products to exhibit low drag across a range of velocities, Endura claims it can make riders faster across a broader range of speeds, but also produce clothing that is beneficial to amateurs and pros alike.
The new Encapsulator skinsuit
I've deliberately called it the 'new' Encapsulator because the older version had the same name and was the suit I used in the Project 49 time trial feature, which you can see here.
Both suits get their name from the porous number pocket on the rear, however the new suit differs from the previous in that it uses different fabrics and placement for improved aerodynamics and also features a new TT specific chamois.
Endura produced over 80 different variations of the new Encapsulator in a bid to create the fastest possible suit.
Endura also claims to have extensively tested its new suit against leading competitors in an effort to refine it and make it faster. These include products from Castelli, Rapha, Specialized, NoPinz, Bioracer and Assos, with data presented below.
The new suit uses a surface treatment on key areas, which Endura calls "Surface Silicone Topography" or SST for short.
In simple terms it is a pattern of raised silicone chevrons. In the past engineers have employed 'trip strips' on surfaces to manipulate the air flow and reduce drag.
Unfortunately these need to be precisely placed in order to be effective, rendering them impractical for widespread use. The SST surface is able act in a similar fashion to trip strip without the issue of precise placement.
Smart explained that "it is actually possible to reduce the drag of a cylinder by half" if an effective surface coating is applied - this being the impetus behind the SST on the new Encapsulator suit.
At a glance, the technology appears similar to that employed on the as of yet unreleased Castelli skinsuits used by Team Sky last year.
D2Z road suit
Endura has also released a road suit, which is designed to be aerodynamically optimal at a lower speed range than the Encapsulator TT suit.
It also features pockets, short sleeves and a slightly different cut. It will also be available as a separate jersey and shorts for those not wanting a onesie.
Endura describes the D2Z road suit as being "for the passionate rider looking to gain extra seconds on the local race circuit, hit ambitious targets on a big gran fondo, set new PB's on every Strava Segment or just beat their mates on the club run."
Similar to the TT version, the road suit features textured sleeves, flank panels and SST leg prints maximise aerodynamics.
The pockets are covered by a flap for improved aerodynamics too. Endura's aerodynamic data on the new suit is pictured below.
D2Z Aeroswitch helmet
Unlike most traditional helmets, the new aero offering can be snapped in half, effectively removing the rear tail, converting it to an aero road helmet.
Being both a road and TT helmet in one has the potential to offer great versatility, however, as with the skinsuits, Endura has spent considerable time optimising the aerodynamics.
The internal construction uses Koroyd, which we first saw in the Smith Overtake helmet.
Endura explained that this material offers superior energy absorption and cooling to traditional polystyrene and it is therefore possible to make a smaller helmet with less frontal area, albeit with the same safety standards as a polystyrene lid.
Naturally, Endura is claiming its new helmet to be the faster than the competition, with data presented in the table above.
The visor of the new helmet has been carefully positioned to give greater visibility when in a low head TT position (think Dan Bigham, Tom Dumoulin) that is becoming increasingly popular.
The tail of the helmet as a different shape to many existing products too, with Smart explaining "there has been a shift towards short tailed helmets because often the tail design is ineffective.
"Our research showed us that the tail needed to be wider to provide stable flow off the back of the head and onto the skinsuit. Testing confirmed that the wide tail was faster and also less sensitive head movement and aerodynamic hysteresis."
Pricing
The new clothing resides firmly in the premium performance price range, with prices listed below:
Endura D2Z Encapsulator Suit £429.99
Endura D2Z Roadsuit £329.99
Endura D2Z S/S Jersey £149.99
Endura D2Z Bibshort £179.99
Endura D2Z Aeroswitch Helmet £349.99
While £429.99 is certainly a hefty sum to pay for a skinsuit, it is arguably a reflection of the impressive levels of R+D that has gone into the products and Endura suggests that the price can be justified when thought of in cost per watt savings against other equipment such as bikes and wheels.
In the meantime we look forward to performing some testing of our own to see how the new products stack up when tested independently.
Thank you for reading 20 articles this month* Join now for unlimited access
Enjoy your first month for just £1 / $1 / €1
*Read 5 free articles per month without a subscription
Join now for unlimited access
Try first month for just £1 / $1 / €1