Endura's new Drag2Zero Aeroswitch helmet can snap in half, offering 2-in-1 versatility
Endura are showcasing its latest aero helmet which can snap in half, offering 2-in-1 aero versatility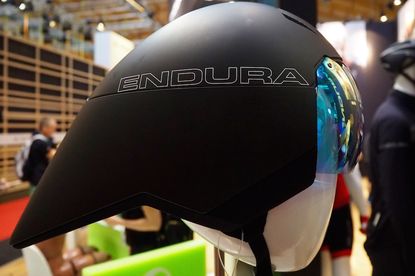 Scottish brand, and Movistar team sponsor, Endura is showcasing its latest Drag2Zero Aeroswitch helmet, that has 2-in-1 versatility.
Unlike most traditional helmets, the new aero offering can be snapped in half, effectively removing the rear tail, converting it to an aero road helmet.
According to Endura, the decision to make the helmet was to offer a greater degree of versatility. Not only can it be used on longer rides, but for those who can't maintain a flat aero position, the tail can become uncomfortable and un-aerodynamic.
The obvious market here is those just getting into time trialling, who aren't yet able to maintain such an intense position.
Simon Smart explains that "there has been a shift towards short tailed helmets because often the tail design is ineffective".
Watch: Project 49 – how to set a TT PB
He continued, "testing confirmed that the wide tail was faster and also less sensitive to head movement and aerodynamic hysteresis".
Elsewhere, the helmet also comes with a deep visor, while a magnetic attachment allows it to be flipped up and out of the way.
Inside, gone is the standard EPS foam core of most helmets. Instead, Endura has specced a full Koroyd core (think the Smith Overtake) that is said to substantially reduce head injuries.
Currently, pricing and availability is to be confirmed.
Thank you for reading 10 articles this month* Join now for unlimited access
Enjoy your first month for just £1 / $1 / €1
*Read 5 free articles per month without a subscription
Join now for unlimited access
Try first month for just £1 / $1 / €1