Five weird and wonderful products from The Bike Place Show
Here are five weird and wonderful products from The Bike Place Show, including Wickens and Soderstrom, Speedsix, Kask, RSP and Unich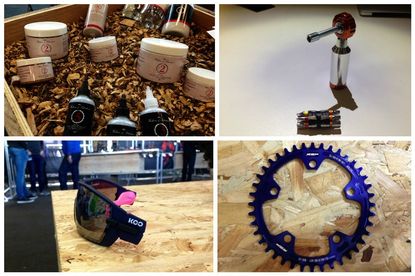 We were fortunate enough to get down and visit The Bike Place Show and see what's going on with the boffins in the industry.
As it happens, quite a lot actually. But here's our selection of five weird and wonderful products.
Wickens and Soderstrom's edible bike cleaning range
Ok, please don't actually eat it. But should it happen for some weird reason we've been assured that it's edible...
The idea behind making it digestible is that eventually some chain lube or grease will get in the hands (and then mouth) of a child. At least with Wickens and Soderstrom's range it can't hurt them.
Plus, it comes with the added bonus of looking after the environment.
>>> How to lube your chain
The actual products themselves are billed as high end cleaning kit and includes bike cleaner, chain lube, grease and polish.
The brand also has tyre sealants which it says are suitable for road use and is working on a mountain bike version.
Kask's new KOO glasses
These are the latest swish offerings from Kask Optics.
They've got neat folding arms which lets you tuck them out the way and keep them protected. Likewise, the replaceable lenses look easy to remove but secure when locked in place.
With a price tag of £175 they're taking aim at the pointy end of the market, looking to tackle the likes of Oakley.
They come in multiple colour ways deliberately designed to match with Kask's helmets.
RSP's single rings for the road
Taking their expertise from the world of mountain biking single rings, RSP have now released a set for the road.
The 5 arm chain rings are available in a variety of sizes, including 38t, 40t, 42t.
They've also adopted the industry standard of 110BCD, meaning converting your bike should be pretty easy. It's compatible with 10 and 11 speed hubs, too.
Watch: How to change your bottom bracket
Speedsix Carbon Shield
Speedsix started out in the world of sailing and have since expanded to the world of two wheels.
It's billed as a high performance, Lanolin based lubricant and carbon shield, designed to protect your bike from the worst of it.
The idea is you spray it over your bike before your ride and it cuts through mud and stops acidic road salts.
>>> Luke Rowe column: The first ride after the off-season is grim
Even better, it doesn't have Hexine in it, so it won't delaminate your fancy carbon frame. It's also matte finish friendly.
Speedsix also claims that one spray will last between two and three weeks, so it should be wallet friendly.
Unich's unique stepless tool
This is one neat, pocked friendly tool.
Inside the main body sits 2, 2.5, 3, 4, 5, 6, and 8mm hex keys as well as T10, T25 and T30 Torx bits.
The screw on base is magnetic which holds an extension piece, designed for those hard to reach parts.
The circular screw in top is a ratchet into which you put the key or the extension.
Thank you for reading 20 articles this month* Join now for unlimited access
Enjoy your first month for just £1 / $1 / €1
*Read 5 free articles per month without a subscription
Join now for unlimited access
Try first month for just £1 / $1 / €1