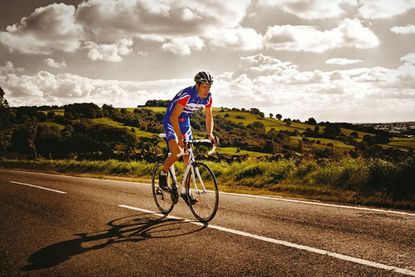 Get The Leadout Newsletter
The latest race content, interviews, features, reviews and expert buying guides, direct to your inbox!
Thank you for signing up to The Pick. You will receive a verification email shortly.
There was a problem. Please refresh the page and try again.
17th January 2011 Words: Matt Lamy
Matt Lamy speaks to Adam Biggs, the brains behind Forme Bikes, to find out how you create a road bike brand from scratch.
Probably the biggest success story among British road bike manufacturers last year was new brand Forme. Created in early 2010 by distribution company Moore Large, Forme began by offering just mid-range, drop-bar machines. But the reaction to its products has been so huge that the line-up has expanded massively for 2011 to include mountain bikes, hybrids and higher-spec road bikes.
Forme was the idea of former pro rider Adam Biggs, who realised there was a gap in the market he could exploit. "I work for Moore Large as the brand manager for high-end Basso bikes," Biggs says. "In 2009, as I was out visiting different dealers and members of the bicycle trade I noticed that there was an obvious boom in the market. Road bikes in particular were up almost 20 per cent — during a recession — and suppliers were having difficulty meeting demand.
"At Moore Large we didn't have any product in the mid-range price bracket — we had low and high-end bikes, but nothing in-between them. So I got some ideas together about what I wanted to achieve and how I felt we could achieve it. Our sales director at the time really liked the idea, said get on with it and we ordered 1,000 bikes."
Eastern magic
Biggs doesn't want to reveal all of Forme's secrets, but he used his knowledge of Far Eastern cycle factories to get the best bikes built. "It's not like you can just go over to Taiwan and pick from a catalogue, so I'm hesitant to give too much away. But all our bikes are made in Taiwan. The frames are actually manufactured by Kinesis, but all of the tubing — the shape of the tubing and the geometry — is unique to Forme. What Kinesis is responsible for is the welding and the production of the frame itself. Then the bike goes to another factory that paints and builds it. That second factory has a reputation in Taiwan for being one of the best painting factories — I think you'd be surprised at some of the big-name bikes that also get finished there."

Stream of consciousness: Forme is Biggs's own creation
Make no mistake — they may be made in Taiwan, but Forme is first and foremost a British brand. Even iconic British companies like Raleigh and Dawes manufacture abroad, and the cycling industry is not alone. While some old-school British cyclists might argue about what constitutes a 'real' home-grown bike, would anybody ever accuse home appliance giant Dyson of being anything other than a British company? Yet Dyson products are made in Malaysia. In Forme's case, everything may be physically produced in the Far East, but all the design and creative input comes from these shores.
"It's fairly simple to control what happens out there. From the moment we started there isn't a day that goes by where I don't have some verbal or written communication about what's happening with our products. Absolutely everything on a bike from the colour of the cable outers, to the material of the saddle, to the stem, to where the decals go on the stem, has to be perfect. So a lot of effort has to go into it and I have personally specced everything," Biggs says.
Looking good
"First and foremost I was looking for aesthetics because regardless of what a bike rider is like, people buy with their eyes nine times out of 10. Then secondly I was looking for comfort. With the price point we were aiming at — £300 to £1,000 — it's almost certainly going to be a beginner or fitness rider buying the bike and the last thing they want is a proper racing bike that is as stiff as a board: that will take away their enjoyment of riding. Really, the plan is to get people on a bike that is relaxed and enjoyable to ride, and once they've ridden it and enjoyed it enough they'll buy a carbon one at twice the price!" Biggs laughs.
The first range of Forme bikes — five models in total — sold very well. In fact, the vast majority of models sold out within three weeks of launching. But despite the almost instant success, as with any new product, Biggs was aware things still needed tweaking. "I made a slight mistake in the geometry. I wanted to achieve a more sportive-style relaxed geometry for the frames. I did that but I had the head tube cut slightly too short, which meant the rider was laid back but also too low at the front end, making the bikes neither sportive nor racing designs. That's something that we have changed for this year.
"Another thing I wanted was to create bikes that had bold European styling and aesthetics but also a British practicality. Last year I purposely didn't have mudguard eyelets put on because we were distributing Race Blades — mudguards that you can fit without mudguard eyelets. I thought that spelt the end for proper mudguards. Typically, when the bikes arrived one of the first things many British bike dealers were asking for were mudguard eyelets. So that's been changed too. And by adding mudguards you have to then give the bikes enough clearance for the brakes and everything else."
Thinking big
But Forme's 2011 range hasn't just been tweaked, it's exploded into new areas and Biggs has got big ideas for his brand. "We plan on expanding the range every year," he says. "We've gone from five models to 21 models, and I expect for 2012 we'll have another nine or 10 bikes specific for various markets. One market that we haven't touched yet, but which we can really get into, is cyclo-cross. So there will almost certainly be two cyclo-cross models, one for racing and more of a commuting model in 2012. "When we started Forme, rather than compete with every single brand I just tried to aim big and pitch ourselves against the three market leaders — Giant, Trek and Specialized. Those are the brands that I really wanted to go up against in terms of price, quality and aesthetics, and I think we can match them pretty well."
All about Adam
Having Adam Biggs at the helm of Forme bikes has been a masterstroke for the brand. Not only does he have an acute awareness of the realities of the British bike market, but he has more experience that most people — certainly more than most cycle trade insiders — of time in the saddle. "I was quite competitive as a junior road racer in the UK," Biggs says modestly. "I went over to France to live and race when I was 18.
I spent three years racing full-time there as a paid professional. The first season I spent with the Crédit Agricole under-23 team and after that I spent a couple of years in the Pyrenees with US Montauban. "Having ridden for so many years, and having been sponsored for most of them, it means that every season I had the opportunity to ride a different manufacturer or different brand of bike.
That experience has given me a great insight into what works and what doesn't work. "I remember one of the teams I rode for gave me completely the wrong style of bike for a season. We got the manufacturer's top-end carbon bike, but it was more designed for a sportive rider, and trying to race on it was not good at all. Although it felt comfortable all day, it was really sluggish. That really opened my eyes to how important it is to get the bike to fit the purpose."
Forme Stag: not as deer as it looks
This article first appeared in the January 2011 issue of Cycling Active magazine
Thank you for reading 20 articles this month* Join now for unlimited access
Enjoy your first month for just £1 / $1 / €1
*Read 5 free articles per month without a subscription
Join now for unlimited access
Try first month for just £1 / $1 / €1
Get The Leadout Newsletter
The latest race content, interviews, features, reviews and expert buying guides, direct to your inbox!