New posters of Spanish and UK climbs from Out The Saddle
New representations of some classic climbs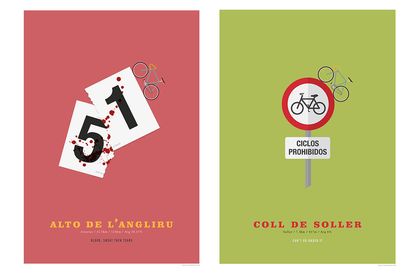 Michael Harris started off designing posters with fun representations of his favourite climbs in the Yorkshire Dales around his home in Ilkley. Uphills covered by his designs spread further afield to France, Spain, Italy and Belgium as his climbing horizons broadened. Most are produced in runs of just 25 or 50.
This year, Harris has added more Spanish climbs including the Angliru, scene of Alberto Contador's last pro victory. The design itself references David Millar's abandonment on the climb in 2002.
Harris has also been riding in Majorca again, with the fruits being several new prints including Coll de Soller and Port de Valldemossa. Harris says that the latter is his favourite, particularly since it's the quietest too.
There's also a re-release of the sold-out Scalextric-inspired Sa Calobra, in a new colourway. So if you're planning a training camp in Spain this spring, an Out The Saddle print might make a good memento.
Watch: How to climb Sa Calobra
http://www.youtube.com/watch?v=nzU4-AF313M
Some prints, like Mont Ventoux are recognisable representations of their well-known landmarks. Others feature an interpretation of the climb's name, refer to their racing history or are a bit more cryptic. All include the climb's location, length, elevation gain and average gradient, as well as a short motto encapsulating the climb's attraction.
Prints can be ordered on-line at outthesaddle.com (opens in new tab) or you can view and buy at Eme on Brook Street in Ilkley. Harris will also consider commissions.
Harris's posters are still something of a bargain at £20 each, including postage within the UK. He's now added worldwide delivery options for his non-UK based fans.
Thank you for reading 10 articles this month* Join now for unlimited access
Enjoy your first month for just £1 / $1 / €1
*Read 5 free articles per month without a subscription
Join now for unlimited access
Try first month for just £1 / $1 / €1