Giro launches sub-150g Prolight Techlace shoes
The new Giro Prolight Techlace has just been launched and they weight less than 150g in a size 42.5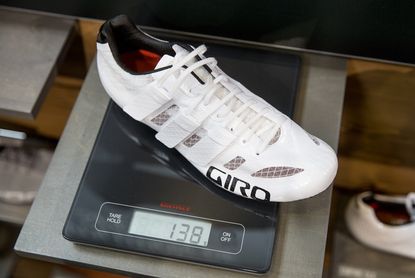 (Image credit: chris catchpole)
Giro has just launched and released its latest high performance road shoe - the ridiculously light Giro Prolight Techlace.
First seen as a prototype at Eurobike last year, the Giro Prolight Techlace is an even lighter version of the brands Factor Techlace we have reviewed previously and according to Giro weighs less than 150g per shoe in a size 42.5.
As a comparison, that's less than the average apple, hampster or less than an iPhone 6+...
For those interested in weight and how the Prolight Techlace compares to competition, at 150g a pair will therefore weigh 300g.
In comparison, an equivalent sized pair of Giro Factor Techlace weigh 420g, while the Sidi Wire comes in at 586g. Giro has also announced that the Prolight Techlace is available to buy now from www.giro.com and authorized Giro dealers for $400/ €399/ £349.
>>> Cycling shoes: a complete buyer's guide
A price of £349 may appear expensive and it is, but put into context, one can argue that many road cyclists would pay considerably more to save less weight on components such as frames and wheels.
You could almost buy three pairs for the price of the new Mavic Comete shoes too.
Watch - The coolest cycling shoes of 2017
Features
What are the design features that make the Giro Prolight Techlace so light?
Firstly there is the Techlace closure system itself, which differs from that found on the Factor Techlace shoe, in that it does away with the Boa Dial and now has three velcro straps - something which Giro suggests has reduced weight.
Giro believes that the Techlace closure is advantageous over a tradition lace up closure because it can be adjusted on the fly.
Also contributing to the low weight are the uppers, which employ a 'Technical Mesh' built from a custom monofilament fiber.
According to Giro this reinforced mesh fabric is "welded to Teijin TPU film to give structure, support, and durability."
The carbon soles are constructed from TeXtreme carbon fiber, something we first saw on the Giro Aerohead Ultimate Helmet.
Used by top F1 race teams, TeXtreme spread tow carbon fiber uses a unique, flat weave that requires less resin, something which Giro claims has allowed it to "reduce the weight of the outsole by 22 per cent while maintaining the same superior stiffness."
Other features include adjustable arch support soles, titanium hardware, a bonded heel walking pad and anti bacterial treatments (fortunately they don't add much weight!).
The Giro Prolight Techlace is available in half sizes from 39-48 and in three colour options - white, red and black. Cycling Weekly understands that several riders at the Tour de France have been equipped with the shoes, including Richie Porte and Taylor Phinney.
Will the low weight of Giro Prolight Techlace give Richie Porte an edge over his rivals in mountains? We will see.
Thank you for reading 10 articles this month* Join now for unlimited access
Enjoy your first month for just £1 / $1 / €1
*Read 5 free articles per month without a subscription
Join now for unlimited access
Try first month for just £1 / $1 / €1
Oliver Bridgewood - no, Doctor Oliver Bridgewood - is a PhD Chemist who discovered a love of cycling. He enjoys racing time trials, hill climbs, road races and criteriums. During his time at Cycling Weekly, he worked predominantly within the tech team, also utilising his science background to produce insightful fitness articles, before moving to an entirely video-focused role heading up the Cycling Weekly YouTube channel, where his feature-length documentary 'Project 49' was his crowning glory.