Hunt Race Aero SuperDura wheels: test ridden by a 116kg rugby player over Roubaix cobbles
New wheels are designed to handle a 130kg rider weight limit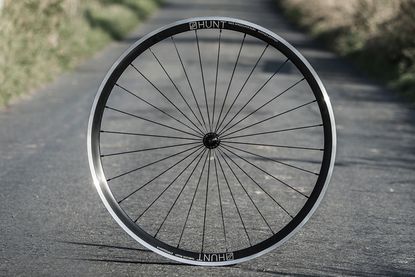 When Hunt Bike Wheels wanted someone to test its new Race Aero SuperDura wheelset, it turned to ex-Leicester Tigers pro rugby player Will Johnson. Weighing 116kg, he was just the man to put the new wheels through their paces, and where better than the cobbles of the Paris-Roubaix sportive?
Johnson is a member of Hunt's OpenDev programme which it set up to test its prototype products prior to their release. He roped in another ex-rugby man who weighed 125kg to help out too.
Of course, the Race Aero SuperDura wheelset coped just fine with its day out, but at close to the recommended rider weight limit of 130kg (that's 20 stone) it was a proper test of the wheels' robustness.
>>> Should you worry about a wheelset's weight limit?
The Race Aero SuperDura is rim braked and has Hunt's strongest niobium-aluminium alloy heat treated rims that are 31mm deep and 24mm wide externally, 19mm internally. Wider rims mean more air volume in the tyre – an advantage for heavier riders. They're tubeless ready and Hunt says they'll take tyres up to 45mm.
>>> "Beware body weight obsession"
The rims are laced with wider gauge J-bend stainless steel spokes, 32 three cross at the rear and 28 radial at the front.
Watch: Wheel buyer's guide
Hunt has beefed up its hubs too, with three pawl 7.5 degree engagement and wide 12mm front and 15mm rear axles to cope with high torque loads. There are steel spline anti-gouge plates incorporated into the freehub body. They run on high quality sealed bearings.
>>> Fabian Cancellara: "Once you're no longer a sportsman the kilos come very quickly"
Despite their build, Hunt (opens in new tab) quotes a 1595g weight for the new wheelset, which will retail at £469. It's taking pre-orders for delivery towards the end of January.
Thank you for reading 5 articles this month* Join now for unlimited access
Enjoy your first month for just £1 / $1 / €1
*Read 5 free articles per month without a subscription
Join now for unlimited access
Try first month for just £1 / $1 / €1