Look launches new 875 Madison track bike
Look says that the new bike is designed for versatility, efficiency and aerodynamics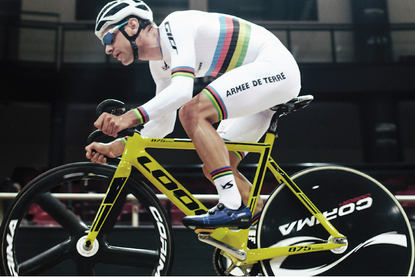 Look has revisited its track geometry for the 875 Madison, with NACA profiled oversize down tube for rigidity and aerodynamic fork blades and stays. It's built of a mix of 40 tonne, 30 tonne and 24 tonne carbon fibre, with 20 per cent being high modulus to ensure that the frame has the rigidity required for track use. Look says that a track frame will typically be 15 per cent more rigid than a road race frameset.
It's been developed in association with the French Cycling Federation, with its eye on the 2020 Tokyo Olympics. But the bike will also be raced by Team Look Criterium on the fixed gear crit circuit, including the Red Hook Crit series.
The Madison event was dropped from Olympic track cycling after the 2008 games, but the International Olympic Committee has reinstated it in the Tokyo Olympic schedule. It has remained a feature of the Track World Championships though.
>>> Rider's eye view of a Madison race (video)
Look has quite a pedigree in track bikes. It's been working with the French Cycling Federation for more than 30 years and its R96 was the most popular track bike at the Rio Olympics, with over 80 being raced by different national teams.
Available as a complete bike, the 875 Madison is kitted out with a Vision 50 tooth 170mm crank length chainset, Track Black wheels, a 15/16 tooth sprocket on a reversible rear wheel, KMC chain and Selle Italia X Base saddle on a Look carbon seatpost. Look says that the fully built bike weighs 7.34kg.
Look will sell the 875 Madison in five sizes and four colours, taken from its Mondian logo: yellow, red, blue and grey. Prices start from 1399 Euro, frame only.
Thank you for reading 5 articles this month* Join now for unlimited access
Enjoy your first month for just £1 / $1 / €1
*Read 5 free articles per month without a subscription
Join now for unlimited access
Try first month for just £1 / $1 / €1