Take a Look: the most popular track bike at Rio
The Look R96 will be the most used track bike at the Olympics with 80 bikes heading for the Rio velodrome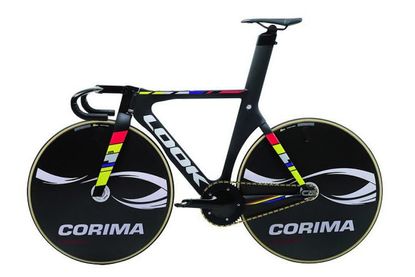 The Look L96 has been around for a while and ridden to victory by the French track cycling team, but it's been given a refresh for the Olympics with this new version which Look calls the R (for Rio) 96.
>>> The secret tech that GB cyclists will use to win gold in Rio
Its features have been brought bang up to date too. Look has shaved around 150g off the frame weight by using a higher grade of carbon fibre and redesigning the seatmast. This now uses the same head as Look's 796 Monoblade time trail bike.
As well as the traditional bolt-on front wheel, the frame will take a thru-axle which hides the bolts and gives a more aero profile. The Look R96 is also compatible with either right side or left side drivetrains. The latter is also used on the USA's Felt track bike.
Since track bikes always turn to the left, this is more aero as the chainring is sheltered by the front wheel and it also moves the centre of gravity of the bike lower.
Watch: A beginner's guide to the team pursuit
There's a need for a specific wheel for left drivetrain use so that things don't come loose when riding and Look's partner brand Corima sells both disc and 5-spoke variants.
The all-carbon aerodynamic frame design includes a one-piece carbon bar with a length between 55mm and 140mm in 5mm increments and it fits Look's ZED Track one piece pressfit carbon chainset and aero track bars.
Front-end profile is ultra-skinny
80 of the R96s have been built by Look for the Olympics. For the real weight weenies, some have been made without varnish. The bike will be used by nine teams at the games. The French team, naturellement, is sponsored by Look, but other teams have purchased the R96.
Thank you for reading 5 articles this month* Join now for unlimited access
Enjoy your first month for just £1 / $1 / €1
*Read 5 free articles per month without a subscription
Join now for unlimited access
Try first month for just £1 / $1 / €1