Merida enters the pro ranks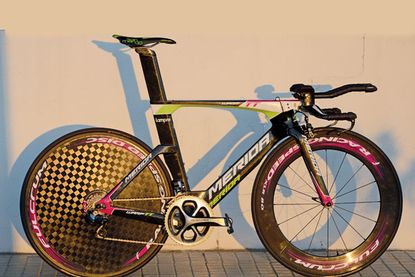 Whereas most riders turn pro in their early 20s, Merida has waited until its early 40s to join a WorldTour team; but in making up for lost time it's gone straight in as title sponsor of Lampre-Merida.
A newcomer to the WorldTour it may be, but not to making bikes. To the uninitiated, the story of Merida, which was originally based in Taiwan, starts out as a collaboration with Raleigh way back in 1972 when it set the factory up (in fact, it was built as a carbon copy of the Raleigh Nottingham factory).
It swiftly gained a reputation for high-quality production and engineering, so became the factory of choice for making frames for some of the biggest bike brands. In order to keep the production line at full capacity, it made a few house-branded bikes too.
Thirty years and a complex business model later, Merida finds itself with a headquarters and research and development centre in Germany, manufacturing locations in Taiwan and mainland China, and, thanks to a shrewd business acquisition, it owns nearly 40 per cent of Specialized. Production-wise, Merida now only makes frames for itself, its in-house brand Centurion and Specialized. By the way, all bikes bound for Europe come from Taiwan only.
That potted history takes us up to the present where, having been heavily into marketing its mountain bikes under ex-world champions Gunn-Rita Dahle and Jose Antonio Hermida, Merida is now doing the same with its road bikes between the legs of Petacchi and Pozzato and the rest of the Lampre-Merida 2013 squad.
What the team will be riding throughout the year is a stable of, eventually, four bikes. All carbon frame-and-fork platforms will use similar construction processes: wide bottom brackets all with a reinforcing strut horizontally across down tubes (Merida mountain bikes run with a double longitudinal chamber). All hailing from one of the best carbon houses in the world means that Lampre-Merida should have some pretty swift mounts.
The workhorse of the team will be the Scultura SL. This is a bike Merida launched last year that has been given a team paint job and lost a few grammes.
With focus on the build around the bottom bracket area, it's not surprising that Merida is claiming that its torsional stiffness is a force to be reckoned with: a claimed 30 per cent stiffer at the bottom bracket than Cannondale's SuperSix Evo.
The 'double chamber' will account for much of this, as will the short chainstay and head tube designs, the latter also putting out some impressive stiffness numbers. Another feature worth noting is the integration of flax fibres in the stays and fork to add compliance and reduce road buzz.
The actual version the team will ride is slightly weightier than the off-the-shelf SL to take into account the rough lifestyle it will be leading - being loaded on and off team cars, crashes and the like.
The dropouts and areas around the bottle cages have also been beefed up. This also helps the bike reach the UCI's minimum weight limit, as the standard SL weight of 1,260g for the frameset would almost certainly require weights adding somewhere.
With time trials considered the make or break of any Grand Tour, Merida has been swift to pull its socks up and produce a bike worthy of contention in this arena. The Warp has officially been around for a while in the guise of a triathlon bike, but after a full makeover, just about all that remains is the name.


Cockpit savings
Since May 2012, Merida has been busy in the wind tunnel testing many top time trial bikes - including the Specialized Shiv, Scott Plasma, Trek Speed Concept and Cervélo P5 - and discovered that the cockpit of a bike is where the most energy savings/improvements can be made.
Looking at a motley crew of riders that make up a team time trial, it's easy to agree with its concept. You can make all the aero tubing profiles in the world, but if riders then need to make significant Heath Robinson adaptations to the front end in order to ride it, the aero bit becomes somewhat compromised.
The Warp therefore has a fully adjustable, yet integrated front end. In translation this means that not only can you adjust the stem length to achieve 90mm, 100mm or 110mm with a simple internal shim; but also the time trial armrest height can vary between 5-100mm with minimal impact on overall aerodynamics.
The other adjustment that has been looked at is the height of the front end. Rather than using the traditional spacer system, Merida has managed to bypass the issue of loss of stiffness by effectively extending the head tube height. This is due to the bearings being mounted within the stem, allowing stiffness and steering control to be retained. This 'Modular Head System' allows you to gain an additional 30-60mm of head tube height.
Working directly with FSA Vision, Merida has also been able to give riders a choice of flat or sloping bars, which again offers a fair amount of height variation depending on needs.
Without a doubt, the Warp takes several design cues from the bikes it's had in the wind tunnel, but the one thing that does stand out from the crowd is the wide fork. This is more like the Sport Institute track bikes used by Team GB.
It should create a more predictable ride by reducing turbulence between spinning wheels and fork legs; it also allows for wider than 23mm tyres, which despite the trend for running 25mm tyres, the Scultura can't take.
Finally, having done all this integrated front-end design work, the obvious sore thumb is the front brake still fastened to the front of the fork. Having looked into possible mounting positions and indeed brake types Merida went with standard Dura-Ace. Although the aero Magura RT8 was superior, it only saved around 1.5 watts and leaving the decision to the team, they voted for the consistency of brakes across all bikes and more importantly the ability to have shifters on base bars as well as bar ends.
The production version will be a pretty close spec to Lampre-Merida's Manuele Mori's, pictured. Shimano 11-speed Dura-Ace Di2, battery in the seat tube and Fulcrum Racing Speed XLR 80 or disc. Eleven-speed Dura-Ace 9000 SRM will also be seen.
Prototype to launch in may
Aero for the Giro
The eagled eyed among you will have spotted Petacchi and Pozzato riding something different altogether. These prototypes will become Lampre's aero bike, with the Giro d'Italia the likely launch date.
As yet, details are vague, but we do know that it will fall somewhere between the geometries of the Scultura and the Ride, and will naturally use similar manufacturing methods with the double chamber and structural segment build construction, a process which, according to Merida, means different bonding according to the stress load on the area.
Bike for the classics
Along for the Ride
The team's spring steed is expected to be launched around Roubaix. The Ride is another bike that's been part of the Merida range for a few years, but gets a going-over ready for the rougher terrain covered in the Classics.
In summary, expect a slightly shorter top tube and a taller and slacker head tube. The rework also means it will now take up to 28mm tyres and apparently the addition of silicone inserts in the forks and stays, which should offer extra cushioning over cobbles.
Contact: www.merida-bikes.com
This article was first published in the February 28 issue of Cycling Weekly. You can also read our magazines on Zinio, download from the Apple store and also through Kindle Fire.
Thank you for reading 10 articles this month* Join now for unlimited access
Enjoy your first month for just £1 / $1 / €1
*Read 5 free articles per month without a subscription
Join now for unlimited access
Try first month for just £1 / $1 / €1
Hannah is Cycling Weekly's longest-serving tech writer, having started with the magazine back in 2011. She has covered all things technical for both print and digital over multiple seasons representing CW at spring Classics, and Grand Tours and all races in between.
Hannah was a successful road and track racer herself, competing in UCI races all over Europe as well as in China, Pakistan and New Zealand.
For fun, she's ridden LEJOG unaided, a lap of Majorca in a day, won a 24-hour mountain bike race and tackled famous mountain passes in the French Alps, Pyrenees, Dolomites and Himalayas.
She lives just outside the Peak District National Park near Manchester UK with her partner, daughter and a small but beautifully formed bike collection.