New BMC Timemachine 01 Disc TT/tri bike launched
BMC adds disc brakes to its time trial/tri bike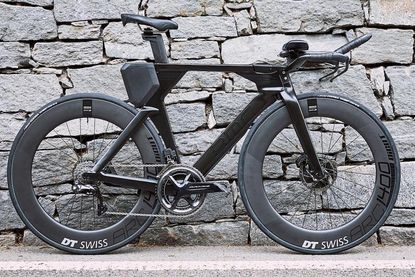 Following hot on the heels of the Timemachine Road aero road bike, launched last week, BMC has announced a new disc brake Timemachine 01 Disc TT/triathlon bike. It says that it's ideal for middle distance and long distance time trials and triathlons. And like the road bike, it has disc brakes.
BMC last revamped its Timemachine time trial bike a couple of years ago, but that bike was rim braked. A key feature of the new bike is the integrated cover over the brake front brake caliper to improve airflow over the fork and reduce aerodynamic drag. There's a similar cover over the rear brake caliper, while thru-axles ensure accurate handling and rotor placement when changing wheels.
Tube profiles obey the (now-obsolete) 3:1 profile rule and BMC says that they are designed to be stable in crosswinds. The fork is designed with a hinge rather than a headtube, giving the Timemachine Disc a low frontal profile.
>>> The best time trial bikes and triathlon bikes
BMC also emphasises the sophistication of its rider positioning system, designed to allow flexibility in bar set-up to meet the needs of a wide range of riders without sacrificing aerodynamics. There's also lots of wind-cheating component integration.
Triathlon specific details include a storage box behind the seatpost. As in the rim brake bike, this is removable and the seatpost position configurable for the bike to be UCI legal.
The Timemachine 01 Disc seems to be aimed by BMC more at triathletes than time trialists and wasn't used by the BMC Racing team when it won Stage Three of the Tour de France. Then the majority of teams were on time trial bikes with rim brakes. It will be interesting to see if it makes an appearance on the Stage 20 individual time trial.
Thank you for reading 20 articles this month* Join now for unlimited access
Enjoy your first month for just £1 / $1 / €1
*Read 5 free articles per month without a subscription
Join now for unlimited access
Try first month for just £1 / $1 / €1