Pro announces the lightest fully integrated carbon handlebars on the market
The New Shimano Pro Vibe SL handlebars are 15 per cent lighter and stronger than the current Pro Vibe model, the brand says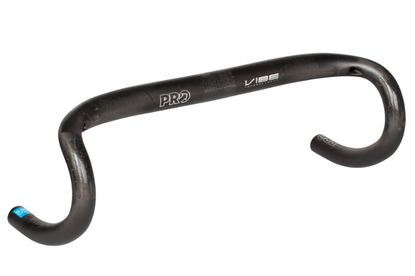 Developing a new carbon manufacturing process has allowed Shimano to combine high modulus M4075 carbo with high strength T800 fibres and allowed designers to use less resin than previous models.
>>>Bike handlebars: How to choose them and six of the best.
Lightest on the market
As well as a weighing a claimed 15 per cent less than the current cable integrated model, which makes it supposedly makes it the lightest handlebar on the market, the new Shimano Pro Vibe SL is also stiffer than previous versions too.
The cable integrated bars accept either Di2 or mechanical shifting, as well as being both mechanical or hydraulic brake cable friendly. Shimano says the Innegra Inside safety feature, an internal layer within the bar, supports the structural integrity of the bars, especially around entrance and exit ports that can suffer from stress fatigue and make the bars vulnerable under impact.
Compact or aero
The new Pro Vibe SL comes in either a compact or an aero design. The compact version comes in widths of 38cm, 40cm and 42cm weighing a claimed weight of just 184g.
The aero bar has a wind cheating flatter top section and narrower drops weighs just 209g and comes in either 38cm or 40cm widths.
Launched today, the prices are yet to be confirmed.
Thank you for reading 20 articles this month* Join now for unlimited access
Enjoy your first month for just £1 / $1 / €1
*Read 5 free articles per month without a subscription
Join now for unlimited access
Try first month for just £1 / $1 / €1