New Catlike Cloud 352 aero helmet spotted at Strade Bianche
New aero lid used by four Movistar riders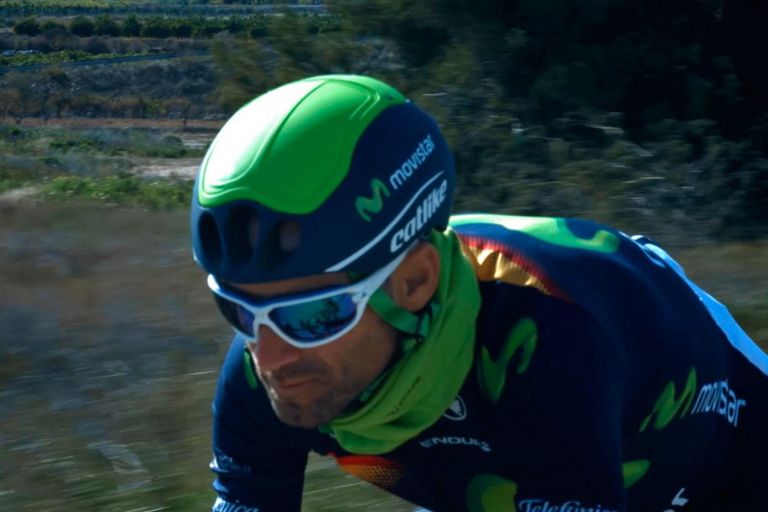 If you had you eyes peeled at Strade Bianche today, you may have spotted a new helmet being sported by a few of the Movistar riders. The new helmet is called the Catlike Cloud 352, and should see plenty of use as the team's aero road helmet for the rest of the season.
>>> Can an aero road helmet make you faster?
With a design similar to the Bollé One helmet, the Calike Cloud 352 has a removable top panel, that enables riders to switch between a solid shell or a perforated shell, depending on whether they are after aerodynamics for fast riding, or ventilation in hot conditions. However, even with the aerodynamic shell, Catlike has still given the helmet three large vents at the front of the lid to allow for some air flow.
The thinking behind the Catlike Cloud 352 name is that ventilated shell is dotted with 352 tiny holes, which makes this one of the best ventilated helmets on the market, according to Catlike.
>>> Watch: highlights of the 2016 Strade Bianche (video)
The retention system appears to use a dial, making it similar to many other helmets on the market, while the helmet will come in five different colour schemes, including that worn by Movistar in Strade Bianche.
UK pricing and availability is yet to be announced, although with it retailing in the USA at $180, we can probably expect something around the £125 mark, putting it towards the lower end of the aero helmet market.