New Easton seatposts allow adjustment without loosening the saddle clamps
New super-adjustable carbon and alloy seatposts and new stems from Easton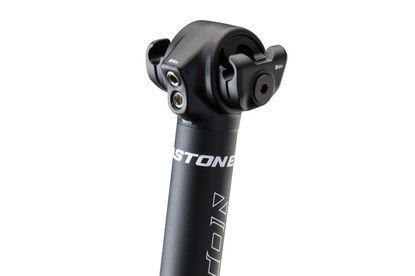 (Image credit: STERLING LORENCE PHOTOGRAPHY sterlinglorence.com cell6049707837)
Easton has redesigned the head on its top end seatposts to make them independently adjustable fore and aft and for seat angle. This patent pending technology, which Easton calls Independent Saddle Adjustment, or ISA, means that you don't need to loosen the saddle rail's clamps in order to adjust saddle angle.
There's a set of allen bolts to clamp the saddle rails, while another pair built into the head allows you to make fine adjustments to saddle pitch.
The carbon EC70 SL weighs 225g and is available with zero or 20mm head offset in 27.2mm diameter priced at £149.99.
>>> Best bike seatposts: what to consider when upgrading
The same tech is applied to the EA90 alloy seatpost. Weighing 265g, it comes in the same offset options and costs £109.99. Both seatposts are 350mm long and need a minimum insertion length of 80mm into the seat tube.
New, lighter stems
Also today, Easton has launched its new lighter, stiffer EA90 stem. Although it seems insignificant, Easton points out that your stem is the point of transfer between your handling and the bike. Easton has increased the EA90 stem's diameter to increase stiffness, while shaving weight by using high quality alloys.
It has also designed an integrated out front Garmin mount, cleaning up its lines and making it more aero.
>>> Should you slam your stem?
The EA90 stem comes in sizes from 70mm with 10mm increments up to 130mm, with a 100mm stem weighing 120g, which Easton says beats much of the competition. The stem angle is +/- 7 degrees. Price is £84.99 with the out front mount adding £19.99 to that.
Below the EA90 sit the EA70, and the EA50, both also compatible with ICM out front mounts. They're both available in lengths from 70mm to 120mm and weigh 132g and 140g respectively for the 100mm length. The EA70, costing £49,99, comes in +/- 7 degree and zero degree options, while the £34.99 EA50 comes in +/- 7 degree or +/- 17 degree angles.
Thank you for reading 5 articles this month* Join now for unlimited access
Enjoy your first month for just £1 / $1 / €1
*Read 5 free articles per month without a subscription
Join now for unlimited access
Try first month for just £1 / $1 / €1