Fabric showcases stunning new ALM saddle
Beautifully light and just plain beautiful new carbon-fibre saddle from Fabric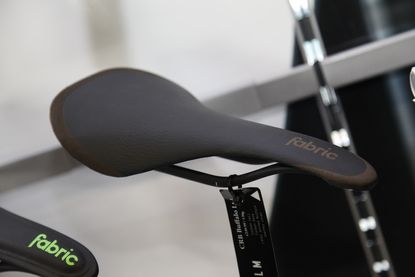 If the Look 795 Aerolight took the prize for the sleekest looking bike we saw at the Bike Place show this week, the award for best looking piece of smaller kit has to go to the Fabric ALM saddle.
From the same people who brought you Charge bikes, Fabric saddles launched last year and has certainly built up a decent amount of momentum ever since and we featured the Fabric Scoop saddle in our Christmas Gift Guide.
If the Scoop, starting from £39.99, might be seen as a bit of a bargain, the top-of-the range ALM, with models at £225 and £249.99, most certainly is not. We haven't had a chance to ride the Fabric ALM quite yet, but if the beautiful design is anything to go by, we think it might just be worth the expense.
Designed in collaboration with Airbus, both the base and the rails of the ALM saddle are constructed from carbon-fibre, and the company claims that the seamless construction will offer the same level of comfort offered by a traditional leaf spring design.This allows Fabric to give minimal padding on top, thereby keeping weight to a minimum. The two models available, the ALM Ultimate and the ALM LTD come with an ultra-light PU foam pad and a laser etched buffalo leather cover respectively.
>>>Buyer's guide to road bike saddles
As you'd expect from this level of engineering (and this price), the final product is incredibly light, with the ALM Ultimate barely troubling the scales at 120g.
We'll be looking to get a Fabric ALM saddle in for test as soon as possible, but in the meantime head over to the Fabric website for more details.
Thank you for reading 20 articles this month* Join now for unlimited access
Enjoy your first month for just £1 / $1 / €1
*Read 5 free articles per month without a subscription
Join now for unlimited access
Try first month for just £1 / $1 / €1