New Orbea Gain: the e-bike that doesn't look like an e-bike
Orbea has hidden the battery in the down tube and fitted a rear hub motor for a sleek look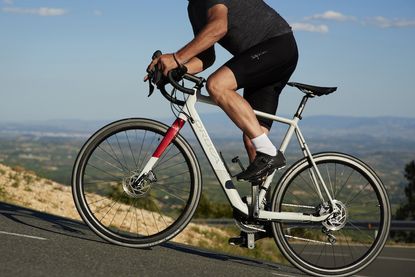 (Image credit: Antton)
Orbea says that the new Gain is designed to add enough power to enhance your ride, without dominating it. One outcome of this approach is that the bike is light at around 13kg, another that it looks more like a normal road bike.
At the heart of the bike's design is a battery pack enclosed inside the down tube, where it's out of sight. It can still be accessed via a cover for servicing and charging though.
This is coupled to a motor which drives the rear hub, avoiding an unsightly mid-frame unit and allowing the use of a standard chainset. It also means that there's no drag in the drivetrain when the motor is not operating.
>>> Orbea launches new Orca Aero model
The electronics to allow you to control the unit sit on the top tube, in the shape of a small button. This allows you to power up the unit, check motor assist level and see how much battery charge you have remaining, all via a set of coloured LEDs.
Built into the bike's down tube is a charging port, which also lets you perform system diagnosis and attach an external backup battery. Orbea has its own smartphone app for ride tracking, route uploads and diagnosis.
https://www.youtube.com/watch?v=xSAUAVf1uss&feature=youtu.be
Working out how much power to deliver requires a power meter to be part of an e-bike system. Orbea has hidden this away too: the sensor is integrated into the dropout and uses a special cassette lockring with 20 embedded magnets.
Orbea will sell the Gain as a disc brake road bike, a gravel bike and a hybrid, with clearance for tyres up to 40mm and mudguard mount options.
Prices for the nine bike Gain range start at £1699 for the entry level hybrid and head up to £2999 for the road bike with an Ultegra hydraulic compact groupset. The top gravel spec with SRAM Force 1 hydraulic comes in at the same price.
Thank you for reading 20 articles this month* Join now for unlimited access
Enjoy your first month for just £1 / $1 / €1
*Read 5 free articles per month without a subscription
Join now for unlimited access
Try first month for just £1 / $1 / €1