SRAM Red eTap AXS bikes from Specialized, BMC, Canyon and more
A wide range of new 12-speed options available – if you've got deep pockets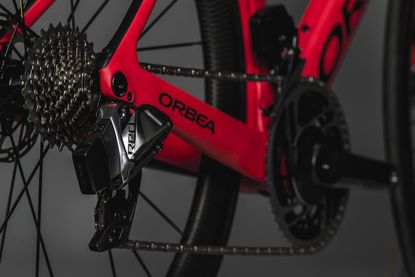 (Image credit: @ J u a n j O t a z u)
SRAM Red eTap AXS adds a twelfth sprocket to the cassette, but also allows a 10 tooth smallest sprocket to be used. This in turn allows SRAM to offer the top end ratios found on a drivetrain with an 11-tooth smallest sprocket, while dropping the chainring size to 48 teeth, for a lighter system weight.
Many of the leading bike brands have already launched high-end bikes equipped with the new groupset. Here's a rundown of some of the 12-speed bikes available.
Cervélo
Cervélo's top end road bikes are now available with SRAM's new 12-speed groupset. That includes the S5 aero bike and the R5 lightweight bike. Cervélo emphasises the extended gear range offered by the 48/35, 10-28 and 46/33, 10-33 AXS options available over a traditional semi-compact and compact drivetrain, respectively.
It says that lets you go quicker on the flats and on climbs, as well as making front changing smoother due to the smaller jump between rings, while the Orbit fluid damper built into the rear mech improves chain retention.
BMC
BMC has released a SRAM Red eTap AXS version of its Teammachine SLR01 Disc. The LTD version – as its name suggests – is a limited edition. Like Cervélo, BMC emphasises the new groupset's wider range, as well as its closer progression between gears and quiet, secure and smooth ride.
Canyon
Canyon has new Red eTap AXS 12-speed versions of its Ultimate and Endurace, both at £5699. Both the Ultimate and Endurace use the 48/35, 10-33 gearing that many other brands seem to have specced.
But the Aeroad CF SLX Disc 9.0 SL pushes to higher ratios with a 50/37 chainset, coupled to a 10-28 cassette for an extra-fast aero ride. It's priced at £6799, with DT Swiss ARC 1100 Dicut DB wheels.
Wilier
Wilier has a special colour scheme for its Red eTap AXS Cento10 Pro. The iridescent paintwork of the Iride Grey frame is matched to the bar/stem combo. It comes with a 46/33 chainset and 10-28 cassette and is priced at €10,800.
Specialized
£9750 buys you the S-Works Venge Disc with 12-speed SRAM Red drivetrain, complete with the new SRAM AXS power meter. You also get Roval CLX 64 deep section wheels.
There's also a new eTap AXS version of the S-Works Tarmac Disc. Slightly cheaper at £9500, this too comes with the SRAM AXS power meter ready installed. Wheels are slightly shallower at 50mm.
Pinarello
Pinarello has a new SRAM Red eTap AXS version of the Dogma F10 to add to its stable. To mark the launch, there's a custom blue and orange paint job.
If you want to see the new groupset and the Dogma F10 in the flesh, it's on display in Pinarello's Manchester and London stores. Yours for £12,000.
Orbea
Orbea has SRAM Red eTap AXS versions of its Orca and Orca Aero disc brake bikes.
The Orca M11iLTD-D is Orbea's premium lightweight race machine. It's priced at £7649 (€8499, $9499) and uses SRAM's 10-28 cassette, coupled to the 48/35 chainset, which SRAM says gives the range that most riders need, while saving some weight from the smaller chainrings.
The Orca Aero uses Orbea's aero road frame. It's designed with tube and fork sections that exceed the now-obsolete UCI 3:1 ratio, which Orbea says increases efficiency by 4 watts for the Freeflow fork design alone.
Again, it comes equipped with disc brakes and with Vision Metron 5D integrated aero bars. It uses the same 48/35, 10-28 drivetrain as the Orca. Price is £7199 (€7999, $8999). We've rated the Orca Aero when we've tested it here at Cycling Weekly.
3T
Most brands have focussed on double ring eTap AXS implementations on their high-end machines. 3T too has double ring Strada and Exploro bikes on offer with the new groupset.
But with its history of single ring options, it's the only brand we've seen offering a single ring SRAM Red eTap AXS machine.
Thank you for reading 20 articles this month* Join now for unlimited access
Enjoy your first month for just £1 / $1 / €1
*Read 5 free articles per month without a subscription
Join now for unlimited access
Try first month for just £1 / $1 / €1