Pinarello lifts the lid on Dogma F8 Disk
New 2016 disc brake-equipped road bike set to be Team Sky's disc bike of choice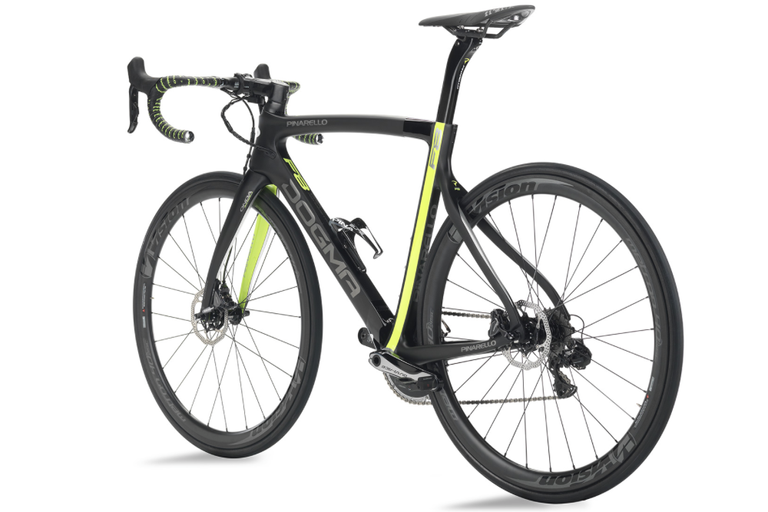 With disc brake-equipped road bikes soon to make an appearance in the pro peloton, Pinarello has announced details of a disc brake version it's top-of-the-range F8 race bike, the imaginatively named Pinarello Dogma F8 Disk.
>>> The disc brake debate: are they necessary on road bikes?
The new bike, which looks set to be Team Sky's disc brake bike of choice when the UCI's braking experiment begins later this summer, has been released almost exactly a year after the original F8. Pinarello says that "the main characteristics of the Dogma F8 remain unchanged", with the asymetric and aerodynamic frame being carried over from the rim brake version.
The Italian company has opted to equip the Pinarello Dogma F8 Disk with hydraulic disc brakes, which are mounted to the frame using Shimano's Flat Mount system, whereby the calipers are screwed directly into the frame. However Pinarello will also be supplying the bike with adaptors to allow customers to use other disc brake systems if they so desire.
>>> Boardman unveils first disc brake-equipped road bike
Aside from the fork and seatstays, the rest of the F8 Disk is a story of continuation from the original F8. The frame is made from Toray 11001K carbon fibre and claims to weigh a svelte 860g for a size 54, and Pinarello says that this also means a frame that is 12% more rigid than the Dogma 65.1.
However the most headline-grabbing part of the F8 is its aerodynamics, with Pinarello saying that its first aerodynamic road bike reduces drag by 47% over the Dogma 65.1 thanks to the cut-off aerofoil frame shapes.
>>> Chris Froome's Pinarello Dogma F8
Pinarello also unveiled the new Gan Disk, a less extreme and more affordable version of the F8 race bike.
Pricing and availability have yet to be announced, but we'll keep our ears to the ground for more information once we get it. Cycling Weekly also has a rim-braked version of the F8 in for test as we speak, so stay tuned for a full review in the near future.
For more details head over to the Pinarello website.