R.E.W. Reynolds: still making cycling shoes after 95 years
R.E.W. Reynolds has been making cycling shoes since the 1920s and for 2016 is extending its range to include SPD offerings.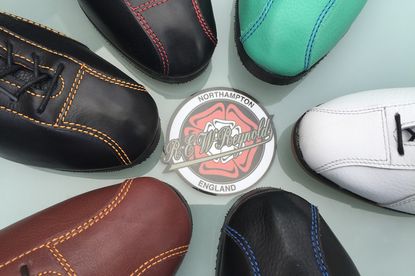 With Eroica Britannia taking place this weekend, R.E.W. Reynolds' classic cycling shoes are likely to be a popular item. They're still handmade in Northampton, the UK's quality shoemaking heartland.
Watch Eddy Merckx in action in 1975
The R.E.W. Reynolds bike shop was founded in the town in 1921 and sold bicycle frames made from the tubing of the same name, although the companies were not related. But R.E.W. Reynolds diversified into other cycling essentials too and although it stopped making frames in the 1980s, the cycling shoe business still exists.
>>> Eroica Britannia 2015 in pictures
The company's mainstay is its Classic Road shoe. A lace-up design with leather uppers and soles, it includes a rubber insert to prevent the shoe slipping on the pedal when riding without clips. The outer side of the upper includes a second layer of leather at the forefoot to prevent toe straps from becoming uncomfortable. There's also a resin panel in the sole under the forefoot to distribute pressure from a classic quill pedal and a steel shank running the length of the sole to increase stiffness and pedalling efficiency.
>>> Are lace-up cycling shoes here to stay?
The Classic Road shoe is sold in men's and women's sizes, with the all-black variant costing £149.00. Men's shoes come in whole sizes between 6 and 12, while women's are available between sizes 3 and 8. The shoes are also available at the same price with orange or red stitching and laces.
>>> Cycling shoes buyer's guide
For a bit of variety, R.E.W. Reynolds also offers coloured variants: for £169.00 you can buy the Classic Road in brown or for the Bianchi rider, in celeste.
For 2016 the company is extending its range. There's a new Goodyear welted variant of the Classic, where the upper and sole are stitched together rather than being bonded.
And a new tan leather cycling brogue with a rubber sole which accepts SPD cleats for clipless pedals will be available as a shoe or a boot for just shy of £300. David Smith, the company's owner, tells us that they're designed to be stiff enough to cycle in but still comfortable for walking. The idea is that you can commute to work then wear them all day in the office, so you don't need to carry a change of shoes with you.
R.E.W. Reynolds will be showcasing its new range at Eroica Britannia and is also backing its shoes by taking part in the ride.
All photos courtesy of R.E.W.Reynolds
Thank you for reading 20 articles this month* Join now for unlimited access
Enjoy your first month for just £1 / $1 / €1
*Read 5 free articles per month without a subscription
Join now for unlimited access
Try first month for just £1 / $1 / €1