Raleigh Chopper returns (again)
Raleigh Chopper Hot One: a modern take on the old classic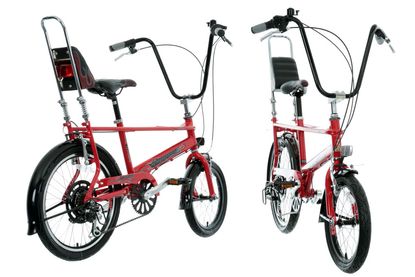 The Raleigh Chopper is back. Did it ever really go away? For many 40-something, child-at-heart men, probably not.
The latest version is a thoroughly modern take on the old classic from the 1970s and 80s. Superficially, it looks very similar to the original with those upright 'ape hanger' handlebars, little 16-inch front wheel, 20-inch back wheel and saddle backrest, but the 2014 Raleigh Copper Hot One is a different machine.
Parents can tuck their First Aid kit back in the cupboard, as many of the original model's bad points are long gone. The Hot One features aluminium rather than steel frame, mountain bike V-brakes, an easily-adjustable (and changeable) saddle and derailleur gears rather than three-speed hub gears.
Of course, the purists will scoff at the new model. But it should also make them happy too, as it's far enough removed from those classic versions that their over-inflated eBay and nostalgic value can be safely retained.
That includes the lack of central-mounted gear shifter, which has been replaced by a modern handlebar-mounted twist-shifter. Many a young lads' trip to the park ended up with them doubled-up in pain after that old gear shifter tangled with with their groin area. Great to look at, bad for the continuation of your family line.
The Raleigh Chopper Hot One is available now at Halfords, retailing for £249.99.
Now then. How about a modern Raleigh Grifter?
Thank you for reading 5 articles this month* Join now for unlimited access
Enjoy your first month for just £1 / $1 / €1
*Read 5 free articles per month without a subscription
Join now for unlimited access
Try first month for just £1 / $1 / €1