Shimano Dura-Ace 9000 Groupset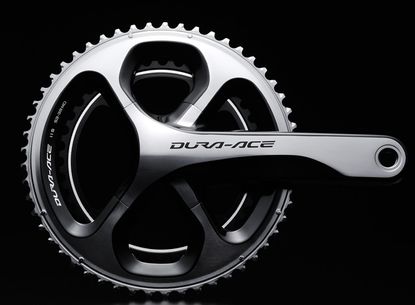 In what would appear to be the worst kept secret in the cycling industry, Shimano launched its new top flight groupset to the world on June 1st. The headline-grabbing news is that it is now 11 speed but there is actually far more interesting news and developments once you delve a little deeper.
Shimano's engineers had a couple of goals when it came to planned improvements over the 7900 groupset and many of these came down to the interaction between human and machine. This concentration on improved ergonomics also included set up and maintenance.
One key area of improvement from this side of things is in the front shifters. Cables now slot in simply and straight from the side - no more removal of covers, or sharp corners. This has knock on effects for shifting feel but we will go into that further later - it is just a good indication that the group has been exceptionally well thought through.
For those obsessed with the scales, the target weight (we were given these numbers in February before final production parts could be weighed) was 5 per cent less than 7900: Shimano want the 9000 Dura Ace mechanical group to weigh less than 1965grams.
11speed
To fit an extra sprocket, Shimano has chosen a different direction to Campagnolo. Rather than reduce the thickness of the chain, sprockets and chainrings, they have increased the width of the freehub body by 1.85mm. This does mean that older wheels won't be compatible, and that the new hub width is 131mm. Thankfully these new dimensions are reverse compatible with older cassettes using spacers and frames will simply be spread by an extra millimeter. As you would expect, there will be a plethora of cassettes in all scales up to 28 tooth to match the larger capacity of the rear mech.
More girth equals more options
Rear derailleur
Shorter in over all length, the rear derailleur actually increases in capacity, and will now happily run to a 28t rear sprocket. It also gains a more linear shift feel, with each gear change now requiring the same force at the shifter, wherever you are on the cassette.
Larger capactiy rear mech
Front Deraileur
While the styling is slightly different, there are few functional changes. The mech does however gain the side mounting screw, as per an electronic front mech, to prevent any danger of rotation under load.
Front mech gets minimal tweaks
Shifters
As mentioned earlier, the shifters have all new cable routing to improve ease of maintenance and set up, but it also reduces the friction internally to reduce the effort required per shift by a claimed 43%. The shifter body itself has been reduced in scale and is now similar to the Di2 body size. To further enhance comfort, dual compound lever hoods are present.
Subtle improvements to the shifters
Brakes
The 20% improvement in braking power can be split into two halves. The first ten percent comes from the new cables. A new winding procedure, plus a new polymer coating massively reduce cable friction. The second ten percent comes from the new caliper. Dubbed SLR EV, it shortens the levers within the calipers from 39mm to just 22mm. Rather than a standard dual pivot brake seen previously, the brake pivots around two stud pivots almost level with the tyre. These shortened levers flex far less, so despite the theoretical reduced mechanical advantage, they actually offer more retardation force at the rim. One other benefit is that if frame manufacturers want, they can actually be mounted to a new stud standard, similar to a cantilever brake, removing a big chunk of metal from the caliper mechanism and saving weight. This suits TT bikes with hidden brakes and will make such fast bikes far easier to set up, and more importantly, slow down.
20 per cent improvement in braking power
Chainsets
Perhaps the jewel in the DA 9000 crown is the new chainset. Unique in styling, the design came about thanks to the stiffness created by the hollow chainrings designed for DA7900. Due to the lack of flex in the chainrings, the engineers found during rig testing that the reduced force acting at certain points in the cranks rotation meant that the chainring didn't actually need the support of five arms. In one foul swoop they were able to lop off a chunk of weight. This new 4 arm design certainly catches the eye and will be available in compact 50-34, standard 53-39, semi compact 52-36 and TT with a larger 55tooth big ring. All sizes share the same proprietary PCD.
A new four-spoke design lops off weight
Chain
Running across these chainrings will be a new, non-directional chain. PTFE coated for improved durability, the engineers found that the new plate design ran as smooth as the older direction specific 7900 chain and fitting is a quicker process for the pro team mechanics as they no longer have to individually check orientation - an issue when you change so many chains with such regularity.
The ultimate Dura-Ace - 9070 electronic
The new DA electronic groupset has seen some upgrades too, but as we went to press there was less information around as Shimano were concentrating on perfecting the mechanical groupset first - proof they feel there's life in cables yet. There are a few things confirmed however and one of the more important - in our view - is the ability to personalize the set up. The shifters can be programmed for 'press and hold' multi shifts. A new five port junction box will allow for more ancillary shifters to be readily fixed and removed as the occasion dictates and should include a usb jack fro charging and programming duties. The E-Tube wiring harness will be used across the entire electronic shifting range meaning that all the climbing, sprint and TT shifters will be compatible with other (read Ui2) electronic groups. On that theme, a new TT shifter set has been announced with a single button for each extension - one up, one down on the rear only to prevent mis-shifts under pressure.
9070 will be easier to fine tune for different disciplines



Contact: Madison



Related Articles: Shimano Dura-Ace 9000 Series First Ride
Thank you for reading 10 articles this month* Join now for unlimited access
Enjoy your first month for just £1 / $1 / €1
*Read 5 free articles per month without a subscription
Join now for unlimited access
Try first month for just £1 / $1 / €1
Symon Lewis joined Cycling Weekly as an Editorial Assistant in 2010, he went on to become a Tech Writer in 2014 before being promoted to Tech Editor in 2015 before taking on a role managing Video and Tech in 2019. Lewis discovered cycling via Herne Hill Velodrome, where he was renowned for his prolific performances, and spent two years as a coach at the South London velodrome.