At long last there's finally a Shimano quick link for your chain
That's right, Shimano has, at long last, released a quick link for your chain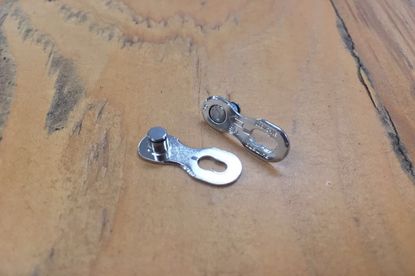 Shimano never releases a product until it is completely satisfied it performs the best it can, and although it's as simple as two halves snapping together and joining a chain, Shimano has refrained from making its own quick link. Until now that is.
The Japanese component giant has now released the SM-CN900-11, a quick link that looks a lot like those offered by competitors such as KMC and SRAM.
Previously, Shimano has insisted on using joining pins to hold its chain together, but at long last it has relented, giving Shimano fans the missing link in its component family. Which should mean we can finally stop carrying around that heavy chain link extractor if we're running a Shimano chain.
The new product will be a relief for those who need to make speedy repairs should the unthinkable happen and their chain snap mid-ride. The quick link is designed for use with 11-speed chains and is, according to Shimano, not reusable.
Quick links are dead easy to install. Place the quick link into the chain gap, align and snap together - usually done by applying pressure through the cranks.
But it is a bit trickier to undo again, and the process is best done with missing link pliers. But the link isn't reusable, remember, so you probably won't to go whipping it off any time soon.
Watch: How to re-join a broken chain
It is compatible with all 11-speed Shimano chains according to the Japanese company and will include two pairs in each pack.
Oddly, it's currently out of stock on most major retail sites, including Chain Reaction Cycles but keep an eye out for it coming back into stock soon.
Currently, two quick links look to cost about £11.99 (unless you're Chain Reaction Cycles who has them listed at £99.99, gulp), which is a step above what competitors such as KMC are offering an identical product for. What a time to be alive.
Thank you for reading 10 articles this month* Join now for unlimited access
Enjoy your first month for just £1 / $1 / €1
*Read 5 free articles per month without a subscription
Join now for unlimited access
Try first month for just £1 / $1 / €1