Shimano Ultegra R785 road hydraulic disc brakes: First ride
With hydraulic disc brakes promising to be the future for road bikes, we test out Shimano's offering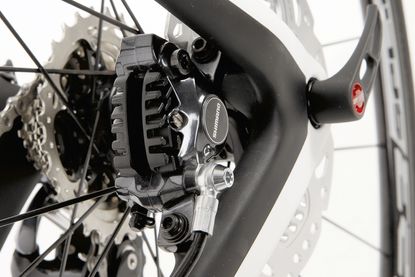 At the same time as getting in the miles during our recent Storck Aernario Disc G1 bike review and giving it a thorough test, we've been trying to use the bike as part of a long-term test of Shimano's top disc brake offering.
So far, we've covered around 1,500 miles on the groupset and testing has been going well. As we've come to expect from Shimano, the electronic shift has been completely unflappable, delivering crisp and positive shifts every time, no matter what the conditions.
As one of the first groupsets off the production line, there have been a few unsurprising niggles. First and most obvious has been a rattle from the brake levers. When not held, they float and jangle over every bump, pothole or surface imperfection — Shimano tells us this is a known problem and something that doesn't affect performance. All the same, the firm is working to resolve it, presumably using new shifters rather than fixing the existing ones.
At no point have the brakes' stopping performance been anything but exemplary, and the best element, to our minds, has been the feel they offer. This feel means it's easy to modulate the stopping force. All the same, they take a little getting used to, as they tend to grab the wheel on initial contact when your head and hand aren't fully calibrated.
What has bugged us more, though, is the brake rub. It's not a major issue but, like the lever rattle, it's an unwelcome noise and adds friction. A heavy stop causes the rotor and caliper to heat up, resulting in a knock afterwards, until it's cooled; ride through a puddle and the same rub of disc on pad begins — very irritating.
From here, we'll be moving the groupset on to another test bike and continuing to test it.
Contact: www.madison.co.uk
Thank you for reading 20 articles this month* Join now for unlimited access
Enjoy your first month for just £1 / $1 / €1
*Read 5 free articles per month without a subscription
Join now for unlimited access
Try first month for just £1 / $1 / €1