SiS launches new protein powder
Ensuring you consume post-ride protein within a 30 minute window is crucial for recovery. Sports nutrition brand Science in Sport (SiS) has announced a new protein powder that offers a reliable and convenient source of your post-ride protein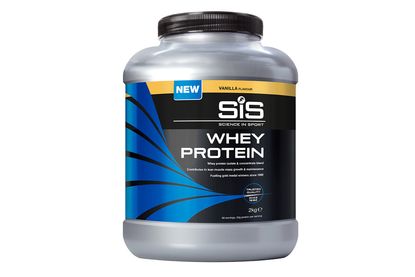 Post workout recovery is crucial if you want to improve. Protein is essential for repairing and rebuilding your body. The new product's formulation is claimed to provide a source of rapidly digestible protein through a blend of high quality whey protein isolate and concentrate. The amino acid profile is claimed to support lean muscle growth.
Sir Chris Hoy is a consultant for SiS protein products and commented: "No matter what you are training for, nutrition is key to performance. You need a product you can trust, that's why I use SiS. Throughout my career, protein has been a key element of my training regime and I'm pleased to work with SiS on the new SiS Protein range."
SiS Whey Protein 1kg will cost £29.99 and SiS Whey Protein 2kg will cost £54.99. Special introductory prices of £22.49 for 1kg and £41.24 for 2kg will be available on the SiS website. The Protein will be available from the 12th of January as either 1Kg or 2Kg and in four flavours: chocolate, strawberry, banana and vanilla. We look forward to testing this to see how it tastes.
Thank you for reading 10 articles this month* Join now for unlimited access
Enjoy your first month for just £1 / $1 / €1
*Read 5 free articles per month without a subscription
Join now for unlimited access
Try first month for just £1 / $1 / €1
Oliver Bridgewood - no, Doctor Oliver Bridgewood - is a PhD Chemist who discovered a love of cycling. He enjoys racing time trials, hill climbs, road races and criteriums. During his time at Cycling Weekly, he worked predominantly within the tech team, also utilising his science background to produce insightful fitness articles, before moving to an entirely video-focused role heading up the Cycling Weekly YouTube channel, where his feature-length documentary 'Project 49' was his crowning glory.