SRM and Look link up for new Exakt pedal power meter
Is this everything we've been looking for? A new power meter that offers SRM accuracy in a pedal-based system?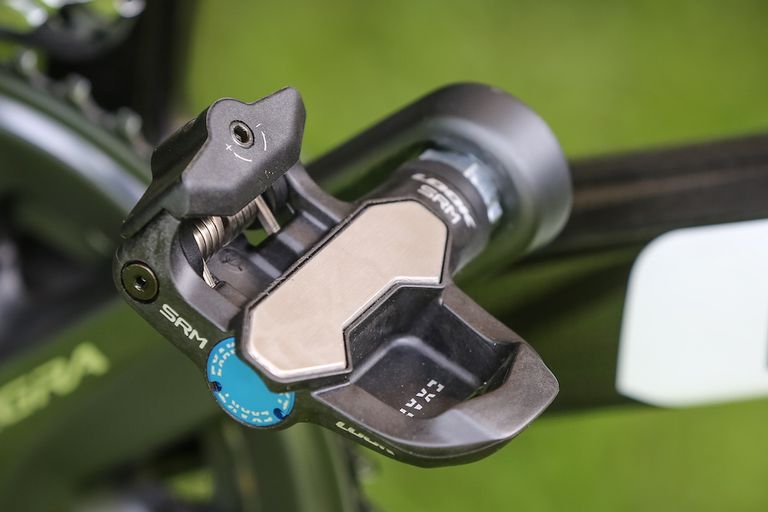 (Image credit: Guido P. Rubino)
Photos: GuidoRubino.com
SRM has been making power meters since 1986 and is often considered to be the gold standard in power measurement, used by many pros to obtain power-output data because of the system's accuracy and reliability. But until now, it's only been available in crankset-based form. Now SRM has worked with Look to bring out a pedal-based power meter that it says is as accurate as the original.
SRM and Look have put a lot of effort into designing an accurate system and its verification, saying that the output matches almost exactly that of the crankset-based SRM system. Key to this was designing a new stainless steel spindle and a pedal body that turns on a needle roller bearing placed directly under the centre of the pedal platform. This, they say, makes the reading independent of where the rider applies force to the pedal surface.
The power meter electronics are fully enclosed in the pedal body, which is IPX7 sealed with dual seals. There's an internal rechargeable battery with up to 100 hours of recording time, with a connector in the pedal spindle allowing you to recharge it and update the firmware.
>>> Power meters: everything you need to know
The antenna is also within the pedal body and there's Bluetooth LE and ANT+ connectivity. The electronics contribute just 25g to the pedal's 155g overall weight.
There are four strain gauges in each pedal, as well as magnetic measurement of cadence sending 200 signals per second to the head unit, which allows analysis of torque curve, for example.
The mechanical parts of the pedal are similar to the Look Kéo 2 Max, with a sprung binding with adjustable release tension rather than the Kéo Blade's carbon leaf spring. The pedal body is made of carbon-fibre with a stainless steel plate. Stack height is 11.9mm and, of course, the pedal is compatible with Look cleats with different degrees of float.
Simple set-up
SRM and Look have an app to accompany the power meter and make set-up simple. It isn't necessary to tighten the pedals in the cranks to a precise torque value. Set-up is completed by pressing down firmly on each pedal. This is enough to allow calibration of the unit and the companion app tells you how accurately set-up has been completed via a red-amber-green speedo display.
The Exakt power meter is not subject to drift during rides and Look and SRM say that it's only necessary to recalibrate after swapping the pedals between bikes.
>>> Cycling training zones: power and heart rate zones explained
The app also lets you see details such as real time power and cadence data, unit and battery status, left-right balance and firmware info. There's output of normalised power, torque effectiveness, training scores and other measures too.
Field tested by André Greipel
Look and SRM have made use of their extensive pro contacts to test the Exakt system. André Greipel, a Look ambassador, rode the power meter in Milan-San Remo. When he crashed in that race he broke his collarbone and also the power meter body, although the spindle was intact.
Look and SRM offer a two year warranty on Exakt. They will also offer a paid-for rebuild service for a damaged pedal.
All the parts for the Exakt power meter are made and assembled in Europe. Look and SRM say that it's been designed to be compatible with indoor training platforms including Zwift and with other head units.
The ride
At the launch in Italy, I coupled the Exakt system easily via Bluetooth with a Polar smartwatch to record my outputs on a ride up into the Tuscan hills.
SRM and Look will sell the Exakt power meter through dealers, as a click and collect item through the Exaktpower website and directly from the site.
The new Exakt system is available from July as a single right sided meter for €799, as a dual sided power meter for €1399 or packaged with an SRM PC8 head unit and a heart rate monitor for €2179. The single-sided meter ships with an uninstrumented left pedal, but you will be able to buy a separate left-side meter if you do decide to upgrade later.
UK pricing is yet to be announced, but you can now pre-order a unit on the Exakt site ahead of general availability.