Stages launches complete power training 'ecosystem' with Stages Dash and Stages Link
Stages goes live with new Dash computer and Link platform that promises to guide athletes to their best performance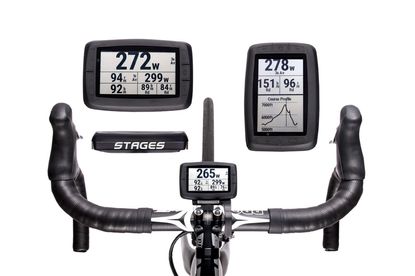 Stages made waves in the power meter market for the its relatively cost effective, minimalistic and easy to use Stages crank based, single sided power meter.
It brought power readings to many who didn't want to splash £1000 plus on a power meter.
Stages provides power meters most notably to Team Sky, but to a mix of off-road and track cycling professionals too.
The American brand wants to own the complete training experience and believes it can deliver a package that'll improve you as an athlete with the help of the Stages Dash unit and Stage Link platform - along with its Stages power meter - that will be available to buy from June 19.
Stages Dash
The Dash computer is a 'performance training' GPS head unit that allows for both portrait and landscape view. The Stages Dash computer is designed to help coach a rider, according to the American brand.
It offers customisation of data fields – between one to 16 different fields per screen can be displayed, as well as a split screen view, which can show prescribed workouts alongside real-time metrics during your ride.
>>> A buyer's guide to cycle computers
This split screen means the unit can guide you through training sessions which can be downloaded to the Dash via Stages Link and will prompt you through effort times and power and/or heart rate zones.
Bluetooth and ANT + connectivity is standard and allows Stages Power and other third party devices to connect to the unit as well as phone connectivity too.
GPS will sort speed out and Stages says it will look to include breadcrumb-style guidance in the near future, but this is a purely performance base unit. You can buy the Stages Dash via authorised retailers for £349.
In use the unit feels robust, the simple two-tone screen is easy to read, and you can easily change between different activity and data screens.
During testing we had pre production models and worked closely with Stages to iron out bugs and small issues. I was very impressed with how quickly it dealt with any niggles, and the company promises to constantly update firmware to ensure smooth running of the Stages Dash unit. A full review will follow.
Stages Link
Stages Link is, well, the link to the entire 'ecosystem'. Link is a cloud-based coaching, education, training analysis and equipment management tool, which Stages developed with coaching experts Today's Plan. This is the exciting part of Stages's next step.
The online platform adapts to your needs, ability and time, and you don't need to know your power numbers or threshold stats to get this program to work - though of course if you do know your numbers, it'll help you to fully focus your training and zones. Link allows you to work through exercises to find out your power zones or heart rate zones.
>>> 17 best cycling apps for iPhone and Android
This is an automated but adaptable system that moves with you whilst you train and get fitter.
When setting up the program it'll ask you some simple questions: the type of rider you are, how many hours you train, what you are training for and whether you use power, heart rate or both. It'll work out a program for you to follow with detailed sessions to best use your time.
Stages Link can show you how hard you are working under Performance on the Link web page. This shows you a graph over a set period and shows you in detail your training load.
You can use Link to manage both your Dash and your power meter, and it can be linked to external parties like Strava and Training Peaks.
Being web based you can access if from anywhere, giving you total control of how you train and use your data.
Riders who purchase Stages Power or Stages Dash will receive complementary access to Stages Link for two months. If you'd like to continue the program it'll cost you £15 per month or £149 per yea. A free service is available, but will not include some of the main coaching features.
Thank you for reading 20 articles this month* Join now for unlimited access
Enjoy your first month for just £1 / $1 / €1
*Read 5 free articles per month without a subscription
Join now for unlimited access
Try first month for just £1 / $1 / €1