Nine of the best (and the worst) bicycles designed by car companies
The best, and worst, bikes and concept designs by car companies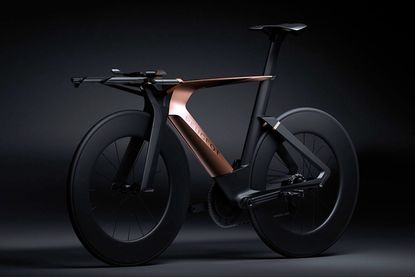 With the news that Bianchi and Ferrari have partnered together to create a new line of bicycles, we here a Cycling Weekly got to reminiscing over the best and the worst, car company bikes and concept models that have ever hit the internet.
From the wacky, the wild and the down right weird, here are nine of our favourite picks.
Not hot: Alfa Romeo 4C
Is it for commuting? Is it for time trialling? Well, Alfa Romeo seem to think both. It's a carbon frame and a carbon fork, but is also available in a single speed setup.
If you want it with gears, it comes with Campagnolo Record or Campagnolo Centaur. Obviously. The bike itself is a Compagna Ducale, but it has been designed to be the perfect partner for the Alfa Romeo 4C car.
Hot: Peugeot DL121 Concept bike
Peugeot say "the bike sits at the frontier between art and function". It also features "innovative leather work" and seamlessly incorporates a zipped compartment between the top tube and down tube for your laptop, book or anything that's flat really.
Hot: Wyndy Milla's Custom Formula 1 Sahara Force India Bike
Ok, you got us, this one is actually a normal bike, just with a wicked paint job. You might also have seen this one pop up on the site not to long ago as Wyndy Milla were kind enough to bring it in to our office. It's a super interesting build – SRAM eTap throughout and EE brakes.
Hot: Chris Boardman's Lotus pursuit bike
This is an absolute classic and is revered around the cycling world as it's the bike on which Chris Boardman won the individual pursuit at the 1992 Olympic Games.
It was also seen as something of a helping hand from F1, with Lotus having a distinguished career in motor racing. Although, we all know it's because Boardman trained like a madman. In an interview, Boardman cites the Lotus as a total game changer for the world of track.
Not hot: Maserati Montante
A hipster's dream perhaps, the Maserati Montante is a single speed commuter bike from the car company, and at €3,600 it's probably more expensive than your actual bike.
We're a little unsure of the red chain and curvy seat stays, as well as the cable actuated front disc brake.
Hot: Audi Sport Racing Bike
The Audi Sport Racing Bike is actually a Lightweight Urgestalt frame equipped with Lightweight Meilenstein wheels.
The bike was born two years ago out of the brains at the Audi Quattro centre. The carbon fibre is reportedly the same as that used in Audi's sports cars, which probably explains the monster €17,000 price tag. Unfortunately, if you wanted to own one, only 50 were made worldwide.
Hot: S-Works McClaren Tarmac
This one is absolute beauty, and the child of Specialized's partnership with McClaren a couple of years ago. Again, it has the breathtaking price tag of £16,000, supposedly because McClaren used the same carbon fibre technology as found in its F1 cars.
Such technology supposedly reduced the weight of the then Specialized S-Works Tarmac by 9-11 per cent depending on frame size.
Confused: Peugeot Onyx TT bike
Just look at how fast this looks! Definitely one to take down to your local club 10 and blow away your mates.
It was supposed to hit the market, but we can't find any evidence that it actually did.
Not hot: Cube Urban Street Concept Bike
To be honest, I'm not 100 per cent sure where to start with this one. It's carbon fibre and supposedly foldable, but it ain't like no folding bike we've ever seen.
Cube has boldly removed the seat stays, so we're unsure about how stiff it'd be to ride. It has dynamo hubs that power LED lights in the seat tube and the brake levers, while it has eight gears in the rear hub.
Thank you for reading 10 articles this month* Join now for unlimited access
Enjoy your first month for just £1 / $1 / €1
*Read 5 free articles per month without a subscription
Join now for unlimited access
Try first month for just £1 / $1 / €1