Prudential RideLondon: How British teams are preparing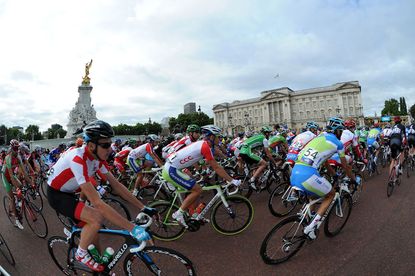 This Sunday's inaugural Prudential RideLondon-Surrey Classic is already a big event on the British cycling calendar.
With BBC cameras broadcasting the event live, the backdrop of an iconic route and hopefully huge crowds lining the road side, Britain's domestic teams are embracing the new opportunity to showcase their talent. Cycling Weekly asked them how their preparations are going.
IG-Sigma Sport
For the IG-Sigma Sport team, who are based in Kingston, RideLondon is virtually a home race for them, with the route going almost right past their shop front door.
As rider Peter Hawkins explained: "The route looks like a pretty regular training ride for me, I'm really looking forward to it. Knowing the roads will help be a bit of extra motivation racing on what's now pretty much home territory.
"I was out with a group of riders going from the Sigma Sport shop yesterday morning to Kingston and back. I know the roads fairly well already, but it's good to keep them fresh in my mind."
Hawkins: Local knowledge
Irishman Hawkins is aware how important an event like Ride London is to the team. "I've been looking forward to it all year, we don't get to do that many races of that caliber - especially IG being based in London, we basically go past the Sigma shop.
"I'd probably put the race on a par with the Tour of Britain and in terms of exposure for the team, we don't do many races that are live on BBC."
And as for how the race will go for Hawkins and the team, he has a rough idea. "Getting someone in the break will be a big deal. It's kind of how I rode the Tour of Britain last year - I'll try and get in the break and if I don't I'll wait and I'll sprint," he said.
Madison Genesis
As someone who has a lot of experience racing in the UK, Dean Downing is looking forward to getting out in front of the crowd in London this weekend and showing what he and his team can do against the other riders.
"I'm excited to race around part of the Olympic circuit, to be in the centre of London - it is going to be a massive race," he told Cycling Weekly. "I imagine there's going to be one hell of a crowd out there.
"There are some big superstars from the world of cycling, from the Tour de France. It's a massive race for us to get invited to. What we don't want to do is sit back and go 'we're invited now, we can cruise around'. There'll be some good team talks beforehand."
Downing, who has raced in all categories of events in Britain from the Tour of Britain to Regional C events, thinks RideLondon has the potential to become one of the country's biggest races. "It's got great potential to be one of the biggest pro-bike races England has to offer," he said. "It'll be a good opportunity for any young British riders to get in the public eye."
Downing: bringing experience and speed
Following a successful season where he won the Sheffield Grand Prix last week, Downing admitted he's found adjusting his training from criterium races to a 140-mile event a bit of a challenge.
"It's been quite difficult to prepare with all the criteriums on the race programme," Downing told CW. "I've been trying to get out and get some longer rides in between the criteriums. I'm steadily getting my legs round to riding longer. It's always quite difficult mixing the crits which is an hour, five laps flat out, with an endurance ride."
Although the team plans will be finalised this weekend before the race, Downing's says teammate Ian Bibby is one to watch out for on Sunday.
"I'm more than likely to be riding in a supporting role. Ian Bibby is coming into good form on the road - he just got pipped on a hard circuit at the Ryedale GP at the weekend. He's away training in the Pyrenees."
Node4-Giordana
Steve Lampier can clearly recall 2011's Olympic test event and is expecting a similar atmosphere on Sunday.
"Coming out of London was overwhelming. The noise levels were incredible," he said. "We're used to racing with big crowds at the Tour Series, but while you hear them, you don't really take notice of them in a way.
"However, because the way we cruised along in the early part of the test event, I remember taking everything in. Going through Bushy Park and over Hampton Court Bridge was amazing.
"To think since then we've had a world champion on the road, two Tour winners and the Olympic success. Cycling has become incredibly popular, and I think that will show on Sunday."
Lampier put in one of the rides of the season at the GP of Wales earlier this month.
At 225km, the Cornish rider admits his excitement for the raced is also mixed with a little apprehension.
"It's 20 odd kilometres longer than what I've raced in this year, and how I go depends really on how the WorldTour teams want to race it.
"The big thing for me is to not make the race bigger than what it needs to be. In the 2011 Tour of Britain, I remember getting overwhelmed by it all, so I didn't get out of it what I should have done. I think I've learnt that lesson, and improved as a rider since."
Much of the pre-race focus has been on Cannondale's Peter Sagan, but Lampier has a memory of the Slovak before he made it big.
"He did Rutland [Melton CiCLE Classic] in 2009 when he was riding for Merida. I remember looking back on one of the off-road sections and he was drilling it down the grass. It was incredible - until he fell off!"
Raleigh
Team Raleigh's team manager Cherie Pridham knows how important an event like Ride London is for her team. "It's invaluable for the British scene, its such a shame there's only one," she said.
"Hats off to SweetSpot and Mick Bennett for giving British teams an opportunity to race against the caliber of the teams that we'll be riding against.
"It's fantastic, I just hope the weather's good and going on the crowd that we've had at previous events, it should be a great event for the UK. Cycling in the UK is certainly on the up and it's great - the bigger the better. It bodes well for the future of British cycling."
Graham Briggs and Evan Oliphant lead the way at last weekend's Ryedale GP
To Pridham, the event is a particularly good way for the team to showcase new talent and one of the names in the Team Raleigh starting six for Sunday is new signing Tom Stewart, who joined from Team Sportscover/Bioracer in June.
"I've selected Tom Stewart for Sunday and it's a huge step. We took him on half way through the year and he's progressed from one week to the next.
"I asked him to step in and he stepped up and I've rewarded him, but I know Tom will relish in riding against the company he will, and I know he will cope fine."
Rapha Condor-JLT
"This is the Olympic legacy right here," Rapha Condor-JLT rider James McCallum told Cycling Weekly.
"Things like the Anniversary Games last weekend and RideLondon this weekend show the power of the Games.
"The reason why we've got this event is because of the Olympics, and that's also why the BBC are so keen to cover it.
"I've always said that cycling has to be taken to the public for it to work. That's why crits are so popular - they're easy to understand and good to watch.
"Professional athletes rarely get the chance to compete through central London, so I think it's going to be a brilliant event."
McCallum: "It's going to be really cool."
Like his former team-mate Dean Downing, McCallum has experienced the huge increase in the popularity of cycling in recent years.
However, the Scottish rider and 2007 British Circuit Race champion believes that it is not just the level of interest in the sport that has soared in the last decade.
"The level of the British domestic scene now is incredible. We've seen how well the top guys can compete, and I think that has now filtered down to our level.
"Take the Sheffield GP [Elite Circuit Series round] the other week. It was eyeballs out from the start.
"If this increase in quality means that we can hold our own against the top teams and those Belgium and French squads who are at the same level, then it's great for us."
UK Youth
With teams limited to six riders, UK Youth DS Dave Povall told Cycling Weekly that selecting his team's line-up was not easy. "It was really hard to decide who to pick, and there are a lot of tired legs in the British peloton having gone through a busy spell of the Elite Circuit Series and Premier Calendar rounds," he said.
"Initially we were going to rest those who are riding on Sunday from the Ryedale GP [last Sunday]. However we didn't think it was best that they would come straight back into the fold for RideLondon, so them resting before Ryedale and getting them racing there meant they got something in their legs before this weekend."
Niklas Gustavsson (c) and Yanto Barker (r) made the UK Youth line-up
Povall's team dominated this year's Pearl Izumi Tour Series, and picked up their first UCI-ranked race victory courtesy of Ian Wilkinson at April's Rutland-Melton CiCLE Classic.
"It's a big ask to win or finish on the podium here," he admits, "but it's always going to be an important race. It's in the capital and it's only one of three UCI-ranked events in Britain.
"There's also a big difference between making up the numbers and putting on a professional display, so if we can look like an organised team and show the jersey in some form, that will earn us respect and some more fans."
Thank you for reading 10 articles this month* Join now for unlimited access
Enjoy your first month for just £1 / $1 / €1
*Read 5 free articles per month without a subscription
Join now for unlimited access
Try first month for just £1 / $1 / €1
Founded in 1891, Cycling Weekly and its team of expert journalists brings cyclists in-depth reviews, extensive coverage of both professional and domestic racing, as well as fitness advice and 'brew a cuppa and put your feet up' features. Cycling Weekly serves its audience across a range of platforms, from good old-fashioned print to online journalism, and video.