Race organiser explains San Remo and Lombardy date changes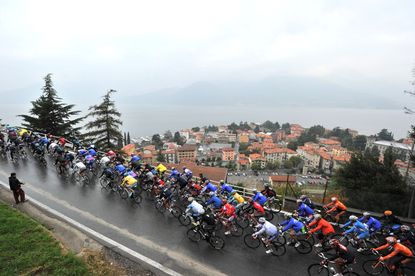 Italian one-day classics Milan-San Remo and Il Lombardia (Tour of Lombardy) have shifted from a Saturday to a Sunday next season due to reasons of road safety, television coverage and the potential for accompanying public rides, organiser RCS Sport said in a statement.
On Wednesday, the Union Cycliste Internationale (UCI) issued a statement confirming that the two WorldTour races were to shift dates, although no immediate reason was given for the move by the organisation.
RCS Sport issued a statement on Thursday to explain its decision. The reasons are three-fold: there is less traffic in Italy on a Sunday, making it easier to organise the road closures essential for the races to take place.
The organiser also feels that Sunday is a better day to offer television coverage of bike races, and points out that most of the other major classics take place on a Sunday.
The final point was that RCS Sport wish to offer mass-participation rides on the same day as the races from 2014 onwards, and again Sunday is more of a traditional day for gran fondos.
Swiss star Fabian Cancellara was one of the riders that had expressed some concern over the shift of day for Milan-San Remo as it stretches the number of rest days between it and the preceding Tirreno-Adriatico: "I do not like that milano-Sanremo will change from saturday to sunday.... #justLeaveItHowItWas. Then must be tirreno-adriatco 1day later to," said the rider in his trademark Twitter speak.
RCS replied: "We saw that Fabian Cancellara said in a Tweet that he was worried about not racing for four days between Tirreno-Adriatico and Milano-San Remo. We had already considered the problem and Mauro Vegni [course designer] and his team is already working on a situation to find a solution so that there is a race on either Thursday or Friday."
Milan-San Remo will take place on Sunday, March 17 2013, with Il Lombardia taking place on Sunday, October 6 2013.
Related links
UCI WorldTour calendar 2013
UCI grants second division licence to African team, plus international news round-up
Thank you for reading 20 articles this month* Join now for unlimited access
Enjoy your first month for just £1 / $1 / €1
*Read 5 free articles per month without a subscription
Join now for unlimited access
Try first month for just £1 / $1 / €1