Apology from coach who described elite female rider with children as "hobby cyclocrosser"
Loes Sels will now be selected to represent Belgium at the Cyclocross World Championships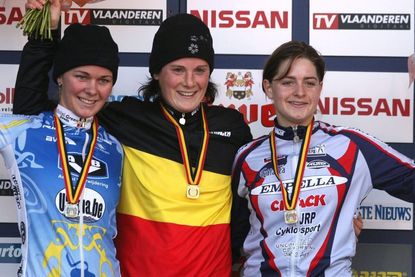 (Image credit: Watson)
Belgian cyclocross coach Rudy de Bie has apologised for comments where he called a former national champion a "hobby cyclocrosser".
De Bie said earlier this week that he would rather have an empty slot in his team for the Cyclocross World Championships than pick Loes Sels, a self-funded rider with two children.
"I'm am ready to defend any choice," he said. "But take Loes Sels, mother of two and hobby cyclocrosser? Should it be that the federation sponsors her hobby?"
>>> Nikki Brammeier and Ian Field lead British team at Cyclocross World Championships
Sels, who was Belgian national champion in 2007 and 2009, and is currently ranked 20th in the world and 7th in Belgium, responded to De Bie's comments in Het Nieuwsblad, saying that having to fund her own racing shows seriously she takes the sport.
"I train hard, I live for cross and perform," Sels said.

"Earlier this year I spent ten days to the United States for the World Cup. That cost me and my partner €4,000, which was a bad investment. With that money we could do something else, but I take my sport seriously and so had to be there."
>>> UCI increases women's race distances as standard of peloton improves
However De Bie has now apologised for his comments, awarding the fifth and final place in the squad to Sels.
"I want to apologize for my unfortunate statement last week," he said. "Especially toward Loes, but also to all the other women in the same situation who practice their sport to the best of their ability."
Thank you for reading 20 articles this month* Join now for unlimited access
Enjoy your first month for just £1 / $1 / €1
*Read 5 free articles per month without a subscription
Join now for unlimited access
Try first month for just £1 / $1 / €1