Bike Channel-Canyon will continue to race in 2018 despite TV channel's closure
Bike Channel-Canyon have reassured riders and staff that they will be able to race in 2018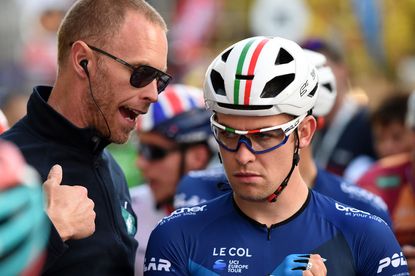 (Image credit: Andy Jones)
Bike Channel-Canyon will continue to race as UCI Continental team in 2018, despite the imminent closure of the TV channel that forms part of the team's name.
As reported last night, Cycling Weekly understands that Bike Channel are close to closure.
The TV channel has shared title sponsorship with the British UCI team alongside Canyon this season, but its probable closure does not put the team's future at risk.
Tim Elverson, the team's manager who holds the UCI licence for the outfit, signed a three-year deal with Bike Channel and Canyon last autumn, and Canyon had already promised more funds for the 2018 campaign.
CW also understands that some secondary sponsors, including Eisberg and Brother, have also agreed to inject increased funds that, even with Bike Channel's potential withdrawal, will keep the team's budget at £250,000, the amount they have operated on in their debut season.
A number of staff have left Bike Channel in recent weeks as rumours about their financial state began to circulate. Elverson confirmed that he hadn't been made aware of the TV station's troubles, but said that they have continued to contribute towards the running of the team, and he was paid just last week.
"Regarding Bike Channel, I have no idea what is happening. But if there is some problem, we will find out in due course," Elverson said at the start of stage six of the Tour of Britain in Newmarket.
"We have made a lot of progress on our budget in 2018. If the rumours are true, then we will have to find a new title sponsor.
"But the budget that is currently in place, I can operate on that as a minimum. But I suspect that one of the conversations we have already had with other sponsors about next season could turn into title sponsorship.
"This isn't ideal, but it won't affect my riders who I have resigned for next year and the riders joining us. It won't affect the team going forward. It just might mean that we need to find a new title sponsor."
Canyon are thought to be reluctant to be sole title sponsor of any team, but have reassured Elverson that if that is required, they will happily fill the void. CW is led to believe that two sponsors of the 14-rider team have already expressed interested in replacing Bike Channel as a lead title sponsor.
The team has had a successful first year, placing third in a stage of the Tour de Yorkshire with Chris Opie and at the Tour of Britain, Harry Tanfield finished seventh on stage four and temporarily led Thursday's time trial, continuing his impressive form that seen him collect two podium places and a number of top-10 results in pro kermesse races in Belgium in August.
Thank you for reading 20 articles this month* Join now for unlimited access
Enjoy your first month for just £1 / $1 / €1
*Read 5 free articles per month without a subscription
Join now for unlimited access
Try first month for just £1 / $1 / €1