British racing scene branded 'worst it has ever been' as teams close
Fears are growing for the future of domestic racing due a lack of sponsorship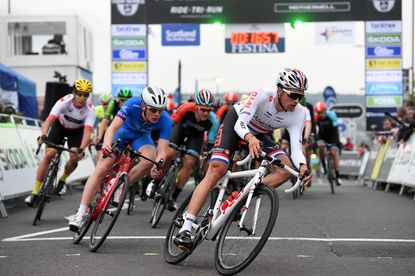 (Image credit: Andy Jones)
This story originally appeared in Cycling Weekly's print edition.
The recent spate of domestic team closures is leading some in the scene to brand it the "worst it has ever been".
Last month, stalwarts of the British scene, Team JLT-Condor announced it would fold, a development that followed hot on the heels of the closure of One Pro Cycling.
Cycling Weekly also understands that Holdsworth Pro Cycling, which was revived only this year, is unlikely to continue as a continental level team in 2019.
>>>One Pro Cycling scrap plans to start women's team next season due to 'lack of sponsorship'
Meanwhile, Team Wiggins, which is an under-23 squad, is also likely to be scaled down from its current 18-rider roster in 2019.
This sudden fall from seven to four continental teams leaves many riders and staff with their livelihoods at stake and is in stark contrast to the success British riders have enjoyed at WorldTour level in 2018, where there have been three separate British Grand Tour winners.
Why has it got to this point?
Cycling's struggles with sponsors are nothing new — every year there's usually one team that implodes due to a funding squeeze.
But is 2018 just a bad year or does it signal a downward trend?
Simon Cope, sports manager at Team Wiggins, expressed his alarm at the recent closures: "At the top echelons of the sport in this country it's the worst it's ever been," Cope said.
"When Banana-Falcon and those teams went, everyone thought it was disastrous then, but we had races. Whereas now we don't have the races either; no one knows where the Nationals are next year at the moment.
"There's talk of Premier Calendar races going as well; there's not that many anyway and there's no one there. As much as they are good racing circuits, they are no good for advertising."
In an age and sport when attracting and holding sponsors for multiple years is desirable, the importance of marketable and attractive racing is crucial to the survival of many teams.
"Sweetspot run the Tour of Britain, Tour Series, RideLondon, but you need a couple more Sweetspots to put on races to attract anybody," said Cope.
"You've got to sell the sport — you need high street finishes. If you were a businessman who wanted to invest you'd go to the Ryedale [GP] and you'd think, what am I doing this for?"
What about those left?
The closure of JLT-Condor and One Pro is surprising given both teams have won multiple top-level races in recent years.
JLT rider James Gullen echoed the sentiments felt across the domestic cycling scene.
"Normally when teams go under, there's an underlying perception that they didn't perform well or something like that," he said.
"So to be successful over the last two years and still not be able to find a sponsor to put in the money to keep the team going, is pretty bad."
It's not as if the talent of British domestic riders is in dispute, with Canyon-Eisberg's Harry Tanfield making the move to Katusha-Alpecin next year off the back of a breakaway win at the Tour de Yorkshire.
Meanwhile Madison-Genesis rider Connor Swift is likely to land a WorldTour contract off the back of his National road race win.
Some riders left with no team have been able to find rides for next year, but others will struggle to find a team, as Gullen explained: "It turns into a wage-cutting war. Everyone says I'll ride for this amount and then you can even a afford to do it anymore.
"Ideally someone will come in late on and realise there are all these riders left and start a team because they can get loads of riders at a really good price and put together a really strong team compared to previous years."
It might initially seem that there could be a few big winners in this situation as the remaining Continental teams bene t from a windfall, picking up some of the riders abruptly left without a ride.
But in the longer term the racing and subsequently the attractiveness of teams to sponsors could suffer, as Colin Sturgess, Madison-Genesis sports director, is all
too aware.
Thank you for reading 20 articles this month* Join now for unlimited access
Enjoy your first month for just £1 / $1 / €1
*Read 5 free articles per month without a subscription
Join now for unlimited access
Try first month for just £1 / $1 / €1