One Pro Cycling scrap plans to start women's team next season due to 'lack of sponsorship'
The outfit had announced they would be disbanding their men's team to focus on the women's side of the sport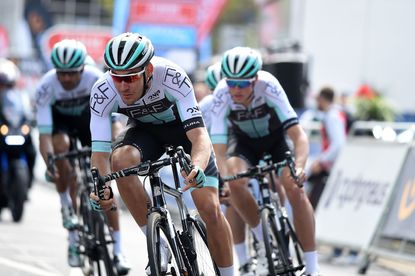 (Image credit: Andy Jones)
One Pro Cycling have announced they will not be running a women's team for the 2019 season due to a "lack of sponsorship."
The team revealed last month that their men's continental level outfit would be disbanded and a new women's squad set up for 2019.
One Pro had said they believed the greatest opportunity "lies within the women's side" of the sport.
But the British squad announced on Monday morning that plans for a women's team riding in the 2019 season had been scrapped after they could not raise enough money.
A statement posted on the One Pro Cycling website said: "One Pro Cycling are sadly forced to announce that we will not be able to run a UCI cycling team for the 2019 season.
"The team were committed to putting together a woman's UCI squad for next season but due to lack of sponsorship we have not been able to raise a satisfactory budget to match our aims."
One Pro added that they will continue discussions through 2019 with the intention of starting the women's team in 2020.
In early September, One Pro announced that it will not run a men's team in 2019, but would focus on a women's team to compete at UCI Women's World Tour races.
The team was founded by ex-cricketer Matt Prior in 2015 with the intention of joining the WorldTour.
>>>JLT-Condor latest team to announce closure
But after registering as a professional continental outfit in 2016, the team returned to the third division continental ranks the following year.
Prior told The Telegraph that to be competitive at WorldTour level you would need £15million, but to challenge in Women's WorldTour races you need a lower budget of £1.5million.
The closure of One Pro came soon after the collapse of Aqua Blue Sport.
British continental team JLT-Condor then announced their closure shortly after.
One Pro added: " [We] would like to thank all members, fans, partners and staff for their support.
"We set out with a hugely ambitious plan and are very proud of everything we have achieved over the past four years."
Thank you for reading 5 articles this month* Join now for unlimited access
Enjoy your first month for just £1 / $1 / €1
*Read 5 free articles per month without a subscription
Join now for unlimited access
Try first month for just £1 / $1 / €1