JLT-Condor latest team to announce closure
The British continental team says they have not found a new sponsor to take over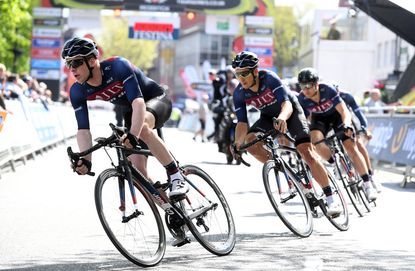 (Image credit: Andy Jones)
British team JLT-Condor is the latest racing team to announce their closure.
The continental outfit confirmed on Monday morning that they would cease at the end of the 2018 season.
Britain's longest-standing UCI team was formed in 2007, and over the last decade riders have picked up wins around the world.
>>>'BMC is one of those teams that will be remembered': riders reminisce as US team closes
Managing director of Condor Cycles, Grant Young, said: "This past decade of supporting the team has made me extremely proud.
"I've seen Condor bicycles ridden to national championship victories, to wins in Australia, Japan, France, Spain and South Korea to name but a few.
"There have been highs, lows, and many medals."
Mr Young said the team have been unable to find a new sponsor to take the place of insurance company JLT, but will continue the search.
JLT-Condor riders include multiple Olympic medallist Ed Clancy and Ian Bibby.
Chief operating officer of JLT Specialty, Nick Williams-Walker said: "We are proud to have been sponsors of JLT-Condor over the last six years and to have shared in the team's many achievements during that time.
"We would like to thank all of the riders for their dedication and hard work over the years."
Mr Williams-Walker also gave a special mention to manager John Herety for his work developing young riders.
JLT will continue its support of cycling through it's sponsorship of Ed Clancy as he looks to add to his tally of Olympic medals in 2020.
The British team is the latest to announce their closure, after Aqua Blue Sport folded last month.
WorldTour team BMC will not continue into 2019 in its current form, while continental outfit One Pro Cycling will close its men's team but set up a women's team in it's place.
Thank you for reading 20 articles this month* Join now for unlimited access
Enjoy your first month for just £1 / $1 / €1
*Read 5 free articles per month without a subscription
Join now for unlimited access
Try first month for just £1 / $1 / €1