Crowning achievement: How Stephen Roche completed his shock Triple Crown
Stephen Roche's 1987 World Championship victory that completed the Triple Crown was a shock to many that knew him best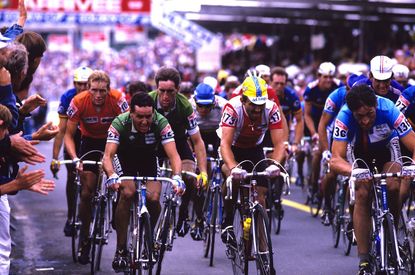 (Image credit: Watson)
Thirty years on from his victory in the 1987 World Championships, Stephen Roche still finds it hard to believe that he came out on top at the end of that wet September day in Villach, Austria.
Away in a break with four other riders, all quicker than him in a sprint, and with Irish team-mate Sean Kelly marked closely by defending champion Moreno Argentin in the group behind, Roche jumped from the back of the lead group just as they swung onto the drag up to the line.
As his four rivals hesitated and looked at each other, the Irishman flew towards the rainbow jersey and into cycling history. Coming on the back of his Giro d'Italia and Tour de France successes earlier that season, his World title made him only the second rider after the almost incomparable Eddy Merckx to complete the Triple Crown.
"I was in great shape for the Giro and Tour, and knew I could win both of them if I could stay in good shape. But my form wasn't at all good in the week or two leading up to the Worlds. I went there with my focus on doing all I could to help Sean Kelly take the title," says the Irishman. "But that year, almost everything went my way. It was quite incredible."
It was just as unbelievable for those who knew Roche well. Peter Crinnion, one of Ireland's pioneers on the pro scene in the 1960s and Roche's long-time mentor, witnessed many of his compatriot's most notable victories, but missed the taking of the rainbow jersey at the rider's insistence.
"I phoned Stephen a week before the Worlds to find out where he was staying. He told me: 'I'm stuck to the road. I can't do long training miles. Don't waste your time coming over.' I took him at his word and stayed at home, and thought I'd just listen in on the radio."
Roche shared that downbeat assessment of his prospects with his parents, Larry and Bunny, who flew off on holiday to Spain with barely a thought.
"If anything, we thought Ireland would win all three with Sean taking the Worlds," Bunny Roche admits. "We didn't know any different until the day after the race when I went down to get something from reception and on the counter I saw a newspaper with a picture of Stephen flanked by two other guys on the podium. It was only then I realised, 'He must have won the title.'"
Troubled in the wake of his Tour success by the knee injury that plagued him throughout his career, Roche spent the days before the Worlds preparing in Italy with the other four members of the Irish team: Kelly, Martin Earley, Paul Kimmage and Alan McCormack.
Between them they worked out a simple plan, which essentially boiled down to protecting Kelly and Roche for as long as possible. "Because there were only five of us, the idea was just to see how the race unfolded and hope that we were in a position to be able to do something in the final stages," Kelly recalls.
Whatever the weather
By the time race day morning arrived, Roche felt his form was improving and the sound of rain hammering down outside the Irish team's hotel offered another reason for confidence. "When the weather's like that you know that plenty of riders won't fancy it and the list of likely contenders will fall," says Roche.
However, the Irishman knew that the conditions were unlikely to diminish the hopes of the strong Dutch, French and, most particularly, the Italian team of defending champion Argentin, who all lined up with twice as many riders as the Irish.
"We let the big nations control the race as it wasn't up to us with just five riders to take that on," Kelly explains. "With a couple of laps to go a group of about a dozen riders went away and a lot of the big nations were represented, so we asked Earley and Kimmage to close that group down. They rode very well and almost got the group back when someone attacked from the peloton and we all bridged across behind him."
"He made full use of his strength but also his tactical nous and ability to read a race"
That move left around 20 riders in the front group, including Roche and Kelly.
"There were lots of attacks and then counter-attacks, and I remember saying to Stephen very quickly, 'Look, one of us has got to make sure we're in these attacks when they go away.' That way we'd have somebody up there and wouldn't be in the situation where we'd have to contribute to the chase in the group behind because that would probably have been game over for us. That's exactly what we did," Kelly continues.
In the final kilometres, Roche followed a move instigated by Dutchman Teun van Vliet and that also featured Germany's Rolf Gölz, Denmark's Rolf Sorensen and Switzerland's Guido Winterberg.
"I had Argentin with me in the group behind. For the final lap or so he was on my wheel the whole time," explains Kelly. "There was absolutely no reason for me to chase. We had a rider up there, that gave us a chance of the win, and it paid off."
Kelly continues: "There's always that moment in a sprint when the riders involved all eye each other up, and Stephen chose that moment to make his attack. There was a little bit of hesitation and that was all that Stephen needed to win the race. He'd made his move at exactly the right time. He made full use of his strength but also his tactical nous and ability to read a race, which was something that he always had."
Back in Ireland, Peter Crinnion had tuned into coverage of the race on a French radio station.
"Listening to the final kilometres was excruciating. Then I heard that Roche had launched a sprint and, moments later, that he had won. It was an unforgettable, wonderful moment."
Crinnion's first thought was to inform the rest of Roche's family that he had taken the world crown.
"I remember Peter rang our house to tell us that Stephen had won. He said he'd heard it on the radio," says Carol Martin, the eldest of Roche's three sisters and the mother of Ireland's current stage racing ace, Dan Martin.
"We thought he couldn't have won it because we knew he was there to work for Sean. We thought Peter must have got it wrong. Then it came on the news that night. They showed him winning. It brought tears to our eyes. We were jumping up and down with delight."
Laurence Roche was in the midst of following his eldest brother's path into the pro ranks and, like Crinnion, had been listening to the race of French radio.
"I'd been competing somewhere with the ACBB, the amateur team in Paris for which Stephen had raced seven years earlier. Their DS, Claude Escalon, who was a good friend of Stephen's, was driving the car and we were stuck in a traffic jam and listening to the commentary on the radio," he recalls.
Immense achievement
"It was amazing, but even though it seemed like that then it's only years later that you realise the immensity of it. I knew at the time how big it was, but it didn't really sink in. It's only today, when I can analyse it more, I can analyse him and his attitude much more. Looking back, I can appreciate the way that he prepared, his attention to detail. You could best see that when he was preparing for a time trial — going out to recce the route, looking at corners and deciding what gears were best suited to them. Nothing was left to chance. The level of detail he was obsessed with never really sank in with me then."
Roche is also renowned for his calmness in high-pressure or intense situations, and Laurence admits it's a characteristic he has too.
"If it was my wife who was in the same situation and I was winning the Tour de France or the World Championship, she'd be jumping and screaming. But I can remember being in the car with Claude that day, jammed in the back with two other guys, and calmly saying, 'That's great.' Even though inside me everything was jumping around. I felt elated but I just wouldn't portray it as much."
Martin Earley, who's hard work on the front of the peloton proved vital to the Irish cause that day, admits he was less surprised to see Roche add the rainbow jersey to the maglia rosa and maillot jaune he had already won that season.
"He may have looked like a stylist, but he absolutely knew how to try really, really hard."
"He was in the form of his life. He could have won any race that year," Earley insists.
"Like so often, they had said it was a course for the sprinters. But a course that might seem straightforward if you ride around it once can often be much more sapping when you're lapping it 16 or 18 times. Strength becomes such a key factor at a moment like that. At the end of the World Championships when everyone is tired, anything can happen. So it wasn't an absolute surprise."
Earley adds: "He may have looked like the perfect stylist on the bike, but he absolutely knew how to try really, really hard. He absolutely buried himself that day. He had bucket loads of talent and it was just a case of all the switches being turned on at the right time, and that year they all were."
That World Championship victory was the only one of Roche's major successes that year that his Carrera team-mate and key lieutenant Eddy Schepers didn't witness first-hand.
"I didn't ride the Worlds that year. Eddy Merckx was the coach of the Belgian team and he said that he wasn't going to pick me because he thought I would ride for Stephen Roche," says Schepers, laughing.
"I was surprised when he won it, but when you have a year like he did in 1987, anything can happen. He was so strong that season. You've got to remember the other races he featured in too, like Liège-Bastogne-Liège when he was at the front with Claude Criquielion coming into the finish and Argentin caught them right at the very end and beat them in the sprint.
"He also won the Tour of Valencia and the Tour of Romandy that year, and he was the leader at Paris-Nice until the last day, when he punctured on the descent off the Tanneron. I gave him a wheel, but he couldn't get back up to Kelly again at the front. That afternoon he bounced back when he won the time trial on the Col d'Eze. Those are the kind of things that only a real champion can achieve and that year he showed he was precisely that."
Eyewitness account: Graham Watson
Recently retired after 38 years as Cycling Weekly's photographer, Graham Watson covered all of Stephen Roche's major victories, and classes his 1987 Giro triumph as the best Grand Tour victory he ever witnessed.
"He had real balls, no fear of anything or anybody," says Watson. "He was hard on himself and on others. He didn't piss around when it came to going for what he wanted, he wasn't interested in second place. The only rider that came close to him in terms of tenacity was Lance Armstrong, but I think Roche had a touch more."
Watson says of the 1987 World Championship, "It wasn't a pure sprinters' race, as many had predicted. The final climb was quite a long drag up to the line, a bit like the one in Copenhagen in 2011 when Mark Cavendish won, but a bit longer perhaps.
"It was very wet initially, although it dried up later. It was a tough man's race, and the one thing that stood out about Roche was that he was very intelligent. There were a lot of hard guys that day and they all thought his final attack was a foil for Kelly, but Kelly was the perfect professional and he never chased. Roche was ruthless when he needed to be and that worked for him."
Thank you for reading 20 articles this month* Join now for unlimited access
Enjoy your first month for just £1 / $1 / €1
*Read 5 free articles per month without a subscription
Join now for unlimited access
Try first month for just £1 / $1 / €1