David Millar calls for Bradley Wiggins's TUE medication to be banned
David Millar explains his experience with the triamcinolone drug that was prescribed to Bradley Wiggins, describing it as "powerful" and "destructive"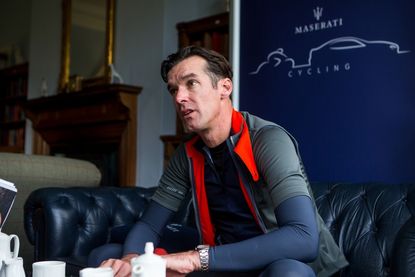 (Image credit: Alex Whitehead/SWpix.com)
David Millar is calling on the World Anti-Doping Agency (WADA) to completely ban the corticosteroid used by Sir Bradley Wiggins during his time with Team Sky, calling the drug "powerful" and "destructive".
In a data leak last week it was revealed that Wiggins received six therapeutic use exemptions (TUEs) during his career, three for triamcinolone, which was used to treat a pollen allergy.
Wiggins's use of the drug was sanctioned by the UCI ahead of the 2011 and 2012 Tour de France and the 2013 Giro d'Italia. There is no suggestion of any wrongdoing by Wiggins.
In an interview with the Telegraph's Tom Cary, Millar described his experience of the drug, saying Kenacort – a trade name for triamcinolone - "put you on this weird high", having used it himself in the past.
The former Garmin professional, who served a two year ban for drug use in his early career and is now an active anti-doping campaigner, did not comment on the Wiggins case, but shared his experience of Kenacort.
"You would do all the training but my weight would stick," he said, referencing his own use of EPO and testosterone patches. "But if I took Kenacort, 1.5-2kgs would drop off in like a week. And not only would the weight drop off I would feel stronger.
"If you are non-asthmatic and you take Ventolin it's not going to give you any advantage. But if you take Kenacort it's not only going to make a sick person better, it's going to make a sick person better than a healthy person. That's a very grey area.
"I'm sure there are other forms of cortisone that could be used for allergies which aren't so potent or performance-enhancing." He added: "We [athletes] shouldn't have to face this. If it's that strong we shouldn't be allowed to take it unless there is a serious issue.
"And if we're suffering from that serious an issue, we shouldn't be racing. I don't know how a doctor could prescribe it [before a race]. I can't fathom it."
In a statement released on Wiggins's behalf following the data leak, it was insisted there was "nothing new" in the revelations, which have left the 2012 Tour champion under fire due to his his previous statements regarding Team Sky's 'no-needle' policy.
"The triamcinolone injection that is referred to in the WADA leaks is an intramuscular treatment for asthma and is fully approved by the sport's governing bodies," the statement read.
Thank you for reading 20 articles this month* Join now for unlimited access
Enjoy your first month for just £1 / $1 / €1
*Read 5 free articles per month without a subscription
Join now for unlimited access
Try first month for just £1 / $1 / €1