David Millar: UCI has 'no true idea' about doping in today's peloton
Millar has called on the UCI to follow-up the CIRC report with a full audit of today's peloton to understand where current cyclists stand on doping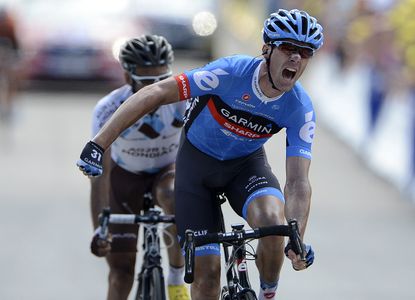 (Image credit: Graham Watson)
David Millar has called on the UCI to follow up the Cycling Independent Reform Commission's (CIRC) report with a full audit of today's peloton to understand where current cyclists stand on doping.
Millar is one of the most outspoken cycling personalities on the subject of doping, having been banned for using EPO in his youth and returning to campaign for a cleaner sport.
CIRC was set up to examine issues of doping and corruption in the sport, and published its report last week.
The former Garmin-Sharp rider, who retired at the end of last season, didn't speak to CIRC, saying that the two parties could not find a convenient time to meet, but says he has spoken to the UCI about what should happen now.
"I hope there's a follow-up report," he told Cycling Weekly. "I told [UCI president] Brian Cookson they need to do an audit of today's peloton, as I think that was what was really lacking from the CIRC report; a real, accurate analysis of where the modern peloton is."
"I still think there's still a bit of an unknown. [The UCI] has no real true idea of what the modern generation is like, what the modern peloton is", in terms of doping and clean performance.
Remorseful, knowledgeable and articulate, Millar became the voice of a movement that pushed for cycling to clean up its act, at a time when other dopers were returning from bans without so much as an acknowledgement of their own guilt.
Team Sky rider Geraint Thomas has said the report is "insulting" for including one rider's opinion that 90 per cent of modern riders, even today, are doping.
"I think it's more than [insulting], I think it's irresponsible for CIRC to put that in," he said.
"It's hard enough to know if you're in the peloton what's going on, but if you've not been in the peloton for years because you're banned then you're literally not going to have a clue, so it is total hearsay. I think that was very irresponsible of the Commission to put that in the report, especially when they knew the gravitas that report carried."
Away from the subject of doping, Millar is now retired — but is he happy, and is it how he expected it to be?
"It's an obvious thing to say: it's different. It's the first time in 20 years I haven't had to think about a racing season," he said. "I'm finding a routine and there are opportunities. I'm in a lucky place really to have things to do".
Things to do on a personal and professional level. Millar is the father of two young sons, and they're remaining in Spain now that his riding career has ended. On a professional level, 'things to do' is seeing him jet around Europe: after this flying visit to Yorkshire in his role as an ambassador for Maserati, Millar was due to head to the UCI's Extreme Weather Protocol meeting in Italy.
"I was approached by the CPA (Cyclistes Professionnels Associés) to be their representative," he said.
"It was totally out of the blue because I don't really have much of a relationship with CPA. So I don't know why they chose me to be honest, maybe because I already have a relationship with the UCI, I'm recently retired and I've always been quite vocal about things."
It isn't quite where Millar saw his post-riding career heading. "It's something I'd never really wanted to be involved in, the Union stuff. It's often been a road to nowhere and I've often been the one who's put my neck on the line [and] it's always been me getting my head cut off," he added.
Even so, he overlooked such concerns when he realised that the process is important to the pro peloton, and that he was now in a position where there were fewer reasons to say no. "I think maybe I can help on this one. But it's certainly very complicated. It's going to take a long time."
One thing Millar won't be doing in the near future is going into team management, an idea he batted away without thought. But he was happy to talk about the current crop of British pros on the WorldTour and the state of British cycling. "It's never been healthier," he noted.
What's more, for someone now looking back nearly two decades to the start of their own career, the transformation in British cycling has been phenomenal. "If you'd said to me when I turned pro in 1997 that 18 years later we'd have two British winners of the Tour de France, the number one team in the world essentially is a British team, we've got all these young British pros… I would have been like crazy town. In that sense it's just incredible what's happened," he said.
Before the interview ended, there was time for Millar to sing the praises of the Yates brothers, riders who he says are "two of the most talented guys in the pro-peloton today. Between neo-pro and having the results and performances they're pulling off is almost unheard of".
Finally, talk turned to the UK's other outspoken cyclist, Sir Bradley Wiggins. Millar thinks that Paris-Roubaix is achievable, as "Brad's capable of anything, as we've seen", but to take the win in the Roubaix velodrome will be a big ask.
For now, Millar goes where the opportunity takes him. We met him as part of his role with Maserati GB, which has teamed up with Human Race Events to become lead sponsor for the Tour de Yorkshire Ride, a sportive takes in the best parts of the new race, with three different distance options.
David Millar is an ambassador for Maserati GB, the title sponsor of the Tour de Yorkshire Ride. Visit http://letour.yorkshire.com/tour-de-yorkshire/sportive
Thank you for reading 10 articles this month* Join now for unlimited access
Enjoy your first month for just £1 / $1 / €1
*Read 5 free articles per month without a subscription
Join now for unlimited access
Try first month for just £1 / $1 / €1
Jack Elton-Walters hails from the Isle of Wight, and would be quick to tell anyone that it's his favourite place to ride. He has covered a varied range of topics for Cycling Weekly, producing articles focusing on tech, professional racing and cycling culture. He moved on to work for Cyclist Magazine in 2017 where he stayed for four years until going freelance. He now returns to Cycling Weekly from time-to-time to cover racing, review cycling gear and write longer features for print and online. He is not responsible for misspelled titles on box outs, and he lost the argument about using UK spellings