How Dr Oetker baking spray was used to win the Cyclocross World Championships
Wout Van Aert has a novel approach to keeping his bike free from mud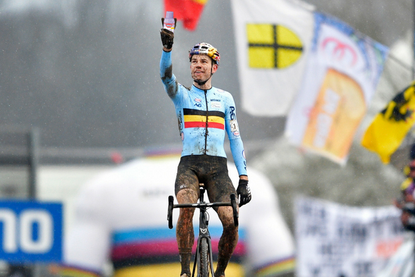 (Image credit: Yuzuru Sunada)
Competing in incredibly muddy conditions that saw riders at the World Championships in Valkenburg spend almost as much time running as they did on their bikes, Wout Van Aert employed a novel approach to keeping his bike free from muck.
Instead of using a tailor-made solution for keeping his frame clean and his bike running smoothly, Van Aert's team manager Niels Albert took a tip from one of his fellow riders, advising Van Aert to spray Dr Oetker baking spray over the frame and groupset of his Felt F1X cyclocross bike.
"I got the tip on Saturday from an American," Albert told Belgian newspaper Het Nieuwsblad. "That butter is so greasy that all the splashing mud automatically slid off again. We also tried olive oil, but with baking spray the result was even better."
Van Aert also benefited from the advice of Albert with his choice of tyres, choosing to use narrower than usual 30mm tyres rather than the 33mm tyres that he typically employs.
>>> Cyclocross world champion's team manager injured in scuffle with security staff at World Championships
The result of these modifications was that Van Aert was able to win his third successive rainbow jersey, winning by more than two minutes over compatriot Michael Vanthourenhout with Mathieu Van Der Poel, who won the 2017-18 World Cup and has dominated the season, finishing in third.
The innovation comes 12 months on from another of Van Aert's innovations at the World Championships, when he used the tread from tyres that Michelin hadn't made for 15 years.
Another of Albert's bright ideas, on that occasion Van Aert took the bright green tread from a pair of Michelin Mud tyres that hadn't seen the light of day since 2002, bonding it to a pair of handmade tubular tyre casings from Dugast.
The result was a more robust tyre that allowed Van Aert to avoid suffering a puncture, while many of his competitors flatted as the thawing ice and snow turned the course to mud, exposing rubble from the reclaimed industrial site.
Thank you for reading 20 articles this month* Join now for unlimited access
Enjoy your first month for just £1 / $1 / €1
*Read 5 free articles per month without a subscription
Join now for unlimited access
Try first month for just £1 / $1 / €1