Esteban Chaves: 'Am I better or as good as 2016? Good question'
The Colombian has returned to the training schedule that made him so successful in 2016 after a difficult season in 2017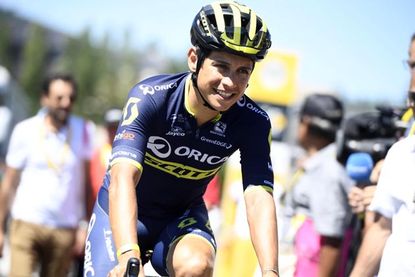 (Image credit: Yuzuru Sunada)
Colombian Esteban Chaves (Mitchelton-Scott) is uncertain if he has returned to his 2016 form, when he placed second in the Giro d'Italia and third in the Vuelta a España, but says that his approach to the 2018 Giro d'Italia has been ideal.
Chaves was not at his best and always felt "rushed and stressed" in 2017. The team gained experience from the season and planned differently for 2018, going back to a schedule similar to 2016.
"Am I better or as good as 2016? Good question," Chaves said by telephone before training with Sam Bewley in Paipa, Colombia, an area made famous by Nairo Quintana (Movistar).
"I ask that to myself sometimes, too. I will see in the Giro d'Italia. Sometimes I think that I'm better than 2016, but then sometimes not. Especially here in Paipa the climbs are new and I can't compare myself to past training rides. You never know."
He and New Zealander Bewley went to Paipa to train at altitude for two and half weeks before Chaves tries to win the Giro d'Italia with Brit Simon Yates.
Chaves already had a taste of what its like when he took over the famous pink leader's jersey head of the final mountain stage in 2016. Only Grand Tour star Vincenzo Nibali could dislodge him, but he held on for second place overall. Later that year, he and Quintana put Chris Froome in a Colombian sandwich when Quintana won the Vuelta a España and Chaves placed third.
"2017 was a pretty hard year, but we learned a lot. We were chasing all the time something after the injury. We were rushing too much and when you are doing that, it's not a good sign. For the next time it happens, the most important thing is too keep calm and do a slow process to get back to the level."
Chaves suffered knee problems with tendonitis that led him to pull out of races. Instead of the Giro, the team sent him to race in the Tour for the first time alongside Simon Yates, who finished seventh.
"It wasn't just the Tour, but the entire season I was rushing too much, racing with my weight, mentally that makes you tired. You try to do everything and it's not right. You train too much maybe, you don't rest, you don't listen to your body," he explained.
"It was a learning process for the team and the people around me, but more for myself for sure. You enjoy years like 2016, but from years like 2017, you learn more."
Chaves drove up from his home in Bogotá to the heights that produced climber Nairo Quintana, 2014 Giro and 2016 Vuelta winner. They have their coach, and a local mechanic and masseur. In their downtime, Chaves serves Bewley some local Colombian plates.
If the start of the season is anything to go by, Chaves is on track. He won a stage and the overall of the Sun Tour in Australia and rode a good time trial in Paris-Nice. After the Volta a Cataluyna, just like in 2016, he returned to Colombia to make his final Giro d'Italia preparations.
"We've had some good improvements, everything is starting to look on track and things come more natural. Easier. Not easier because you are still working hard, but natural and you can sleep at night without so much stress," Chaves said.
"I was really close to losing everything [with the 2013 Trofeo Laigueglia crash], now it's great just to enjoy life, ride my bike, show Sam food he's never seen in my country, going to Israel and Jerusalem for the first time in my life for the start of the 2018 Giro," he continued.
"I'm just enjoying life, you forget to do that sometimes. Most people just go from home to office and to home again, stuck in traffic, but we travel the world and ride our bikes. It's a special life. I'm lucky. I'm going to smile."
Thank you for reading 20 articles this month* Join now for unlimited access
Enjoy your first month for just £1 / $1 / €1
*Read 5 free articles per month without a subscription
Join now for unlimited access
Try first month for just £1 / $1 / €1