Fabian Cancellara exclusive: I've won time trials before when I've felt bad
Fabian Cancellara tweeted on Thursday that he's in bed with a fever, but that's no reason to write the Swiss rider off ahead of the Giro d'Italia time trial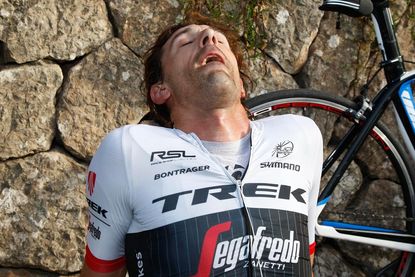 (Image credit: Graham Watson)
It's too early to write off Fabian Cancellara's chances of winning the Giro d'Italia's opening stage on Friday, with the prolific Swiss rider having been successful before when feeling under the weather.
The Trek-Segafredo rider planned to spend all day in bed on Thursday to try and overcome a fever he's been struck down with ahead of the 9.8km time trial in Apeldoorn, and didn't train with his team.
>>> Fabian Cancellara's hopes of wearing pink at the Giro d'Italia suffer a setback
On Wednesday, Cancellara sat down with Cycling Weekly after his training ride - after which he complained of feeling aches and pains - and explained he doesn't always have to be on top form to win time trials.
He remembered back to riding the Tour of California for CSC-Saxo Bank in 2009, where the team was welcoming representatives of its new sponsor, Specialized.
Fifteen minutes before the 3.8km prologue in Sacramento, Cancellara was fast asleep on the team bus, struggling with a fever.
"I remember Bobby Julich came to me and woke me up 15 minutes before the start, because I was sleeping on the bus," he recalled. "They said 'Fabian, you are our only chance, to save our ass.'
"I tell you, I went out on the rollers, just grumpy, just bad. But I took five minutes to get ready. I don't know how I did it, but I shocked [my body] somehow, and I went out and bang, boom and I won it."
Watch: Who are the favourites for the Giro d'Italia 2016

Waking up the body when you're not feeling 100 per cent is Cancellara's top tip for getting the best performance - he won the prologue at the Vuelta a España in 2009 with just 15 minutes' warm-up after feeling bad all day.
It was also at the Vuelta where the four-time world time trial champion found another source of power, although it's not one you would normally associate with an elite athlete before a race.
"Two years ago, at the Vuelta in Jerez la Frontera, I was also really bad, almost sick, empty, I had no power," he said.
"Then I think on the day before the TT I felt good but had no power, and I said 'I need something, I need power, I need energy'.
"So I went down to McDonalds. Boom, and then I felt like, ah now I'm ready."
He may be in bed today, but come Friday afternoon Spartacus will be ready for battle - one way or another.
Read an exclusive interview with Fabian Cancellara in the May 19 issue of Cycling Weekly
Thank you for reading 20 articles this month* Join now for unlimited access
Enjoy your first month for just £1 / $1 / €1
*Read 5 free articles per month without a subscription
Join now for unlimited access
Try first month for just £1 / $1 / €1