French farmers request Giro d'Italia wolf mascot stay at home when race crosses border
A fluffy wolf mascot for the Giro d'Italia may not travel with the race on stages 19 and 20 as it enters France over "provocation" claims from French farmers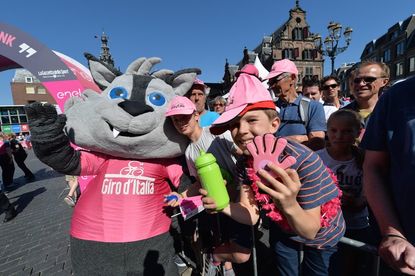 International relations will be put to the test next week as the Giro d'Italia moves outside of its home country into southern France for two days, but while the riders will be widely welcomed, the race's mascot will not.
Lupo Wolfie, a fluffy wolf wearing a pink jersey, was introduced to the Giro last season and seemingly just wanders around patting children on the head and posing for photographs with fans.
But farmers in the French Alps call the mascot's potential presence on stages 19 and 20 as "pure provocation", with shepherds suffering heavy losses to wolves in the region in recent times.
In asking the mascot to stay in Italy, the Union of French Farmers said: "The display of such a mascot in our region is a pure provocation that is not humanly acceptable to farmers."
While banning a person from wearing a wolf costume may seem an extreme measure, the wolf problem in the region has provoked strong measures to be taken by angry farmers.
Last year some farmers effectively held bosses of a national park hostage overnight demanding more to be done to protect their livestock against predators. It's reported that in 2014, around 8,500 animals have been killed by wolves.
Thank you for reading 20 articles this month* Join now for unlimited access
Enjoy your first month for just £1 / $1 / €1
*Read 5 free articles per month without a subscription
Join now for unlimited access
Try first month for just £1 / $1 / €1