Giorgia Bronzini to retire and join Trek Factory Racing as directeur sportif
Bronzini did an about-turn on retirement in 2016 but this time she's really moving on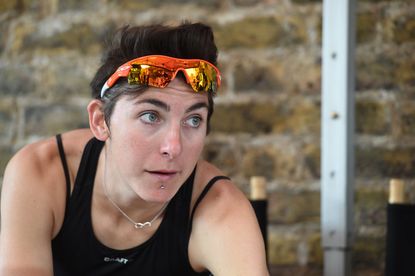 Giorgia Bronzini has called time on her career as a pro cyclists, and will join German sprinter Ina Teutenberg as directeur sportif at the new Trek Factory Racing women's team in 2019.
The Italian rider's professional career has spanned 16 years, five of which she spent with British outfit Wiggle High5 - a team which she left for the 2018 season to join Cylance Pro Cycling.
At Wiggle-High5, Bronzini naturally took a position as road captain, mentoring younger members of the team.
The 35-year-old had planned to retire in 2016 - but made an about-turn, signing for a further one year deal with Wiggle High5, which will disband from the end of this year.
Show us your scars... Giorgia Bronzini
Bronzini has three UCI world titles to her name - one on the track from 2009 and two on the road from 2010 and 2011.
Small in stature but intensely powerful, the sprinter has over 80 wins to her name, having claimed stage victories at the Giro Rosa, Route de France, Tour of Qatar and Amgen Women's Race. This year, she won the points classification at the Tour of Chongming Island, as well as stage one.
Bronzini had signed up to take the UCI's directeur sportif training, starting in December 2018.
"I am retiring from the races because I feel now is the time," said Bronzini. "I really still enjoy the racing, but what I am finding heavy is all the training."
"I'm glad to start my new experience with Trek alongside one of my idols Ina Teutenberg. I am excited to pass on all my experience to the riders and help them find a balance to enjoy racing while also being focused to archive good results," explained Bronzini.
"It is hard to leave the racing behind, I have many great memories, but I am happy I can continue in cycling. I have so much to give back; I want to pass this on."
Thank you for reading 20 articles this month* Join now for unlimited access
Enjoy your first month for just £1 / $1 / €1
*Read 5 free articles per month without a subscription
Join now for unlimited access
Try first month for just £1 / $1 / €1