Cavendish disappointed to lose Giro stage in Montecatini Terme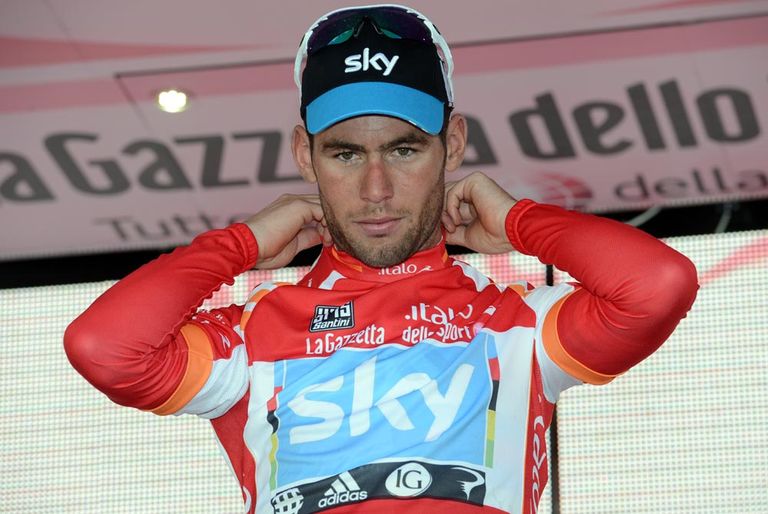 Mark Cavendish lost another chance to win in the Giro d'Italia today in Montecatini Terme. His Sky train rumbled through the last bend, but over-powered and out of control. Geraint Thomas' pedal hit the ground and caused his wheel to jump, Cavendish lost momentum and Roberto Ferrari (Androni) shot clear.
"I was screaming the last kilometres to be careful," Cavendish said on TV afterwards. "I'm a little disappointed with Geraint, he wasn't careful. I let him know right after the finish."
Thomas is usually free with his time, but today preferred not to comment immediately about the sprint.
"Everything went perfect until that last corner," Pete Kennaugh told Cycling Weekly. He led Thomas and Cavendish into the final tight corner. "I just went flat-out into the corner, took it a bit sharper than I thought. I was not sure what was going on behind... I didn't take it very well, to be honest."
"I had a big gear, I expected to carry the speed," Cavendish added. "I lost my speed. If I used a smaller gear, I could've carried the speed more."
Cavendish already missed two opportunities in the Giro d'Italia to sprint due to crashes. In Horsens, Ferrari clipped his front wheel and in Frosinone, Matt Goss (Orica) and Filippo Pozzato (Farnese Vini) held him up when they collided.
"In Fano I had the perfect lead out, but we're still learning. It's the first time I have raced with Kennaugh. As with everything, you start in a new team, you start fresh. I'm lucky to have won six to seven races this year. I don't think we've done such a bad job," added Cavendish.
"I have good condition, I came to the Giro in good condition. I survived the mountains well. Today, I was on the climb okay. I'm happy with my form, for sure, I'll be better at the Tour [de France]. But, I came to the Giro with good form, this stage was important because of my home here. I was disappointed to lose here."
Giro d'Italia 2012: Latest news
Hesjedal happy with Giro performance despite losing lead
Pinotti alters Giro plans after losing time in mountains
Pozzato apologises for role in causing crash
Hesjedal has tough day as Giro leader
Schleck building form in Giro for final week in Alps
English speakers on top
Giro favourites to make move in first mountain finish
Malori will relish time in Giro lead
Sky's Giro team time trial disappointment
Phinney's terrible day sees Giro lead slip away
Teams ready for Giro's team time trial
Phinney given all-clear after Giro crash
Ferrari should be ashamed of Giro sprint, says Cavendish
Giro remembers Wouter Weylandt
Cavendish and Thomas a winning combo, says Brailsford
Geraint Thomas narrowly misses out on Giro lead
Phinney realises Giro dream
Giro d'Italia 2012: Live coverage
Giro d'Italia 2012 live text coverage schedule
Giro d'Italia 2012: Stage reports
Stage 10: Rodriguez wins thrilling finale to take leadStage nine: Ventoso wins in Frosinone as Goss and Cavendish fall
Stage eight: Pozzovivo takes another Giro win
Stage seven: Hesjedal moves into Giro lead
Stage six: Rubiano solos to epic Giro stage win
Stage five: Cavendish bounces back for another stage win
Stage four: Garmin-Barracuda win TTT to take lead
Stage three: Goss wins in Horsens as Cavendish and Phinney crash
Stage two: Cavendish wins in Herning
Stage one: Phinney wins time trial
Giro d'Italia 2012: Photo galleries
Stage 10 photo gallery
Stage nine photo gallery
Stage eight photo gallery
Stage seven photo gallery
Stage six photo gallery
Stage five photo gallery
Stage four photo gallery
Stage three photo gallery
Stage two photo gallery
Stage one photo gallery
Giro d'Italia 2012: Teams and riders
Giro d'Italia 2012 start list
Giro d'Italia 2012: TV guide
Giro d'Italia 2012: British Eurosport TV schedule
Related links
Giro d'Italia 2012: The Big Preview
Cycling Weekly's Giro d'Italia section