Colli finally leaves hospital after Giro d'Italia crash and uploads gruesome x-rays
Nippo-Vini Fantini rider Daniele Colli is discharged from hospital after undergoing surgery to fix a broken arm and shows the world his x-rays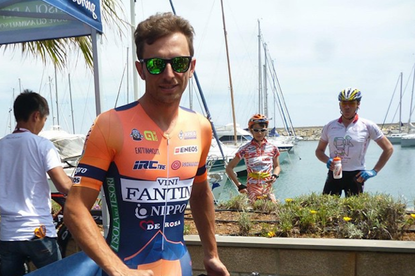 It was one of the least enduring images to come from the first week of the Giro d'Italia, but Daniele Colli's horribly broken arm is on the mend and the rider has now left hospital.
The Nippo-Vini Fantini rider was left with the pretty horrific injury after being knocked from his bike by a spectator taking photographs on the finishing straight of stage six.
Since then Colli has been in hospital, undergoing an operation to repair a compact fracture of the humerus. On Tuesday, however, Colli was finally allowed to go home and to celebrate he treated us to the photos of the x-rays taken while he was there.
Colli documented his five-day stay at the hospital pretty well, updating fans with his progress and retweeting messages of support.
He also uploaded a few other pictures to Instagram of his arm in a sling and in plaster, one with the message "falls seven times, stand up eight".
Colli announced on Saturday that he is to take action against the spectator who caused his crash, who is reportedly a photography store owner from Castiglione della Pescaia.
Thank you for reading 20 articles this month* Join now for unlimited access
Enjoy your first month for just £1 / $1 / €1
*Read 5 free articles per month without a subscription
Join now for unlimited access
Try first month for just £1 / $1 / €1