Daniele Colli to file complaint against fan who caused Giro d'Italia crash
Nippo-Vini Fantini rider Daniele Colli broke his arm in the stage six crash at the Giro d'Italia, which was caused by a fan taking photographs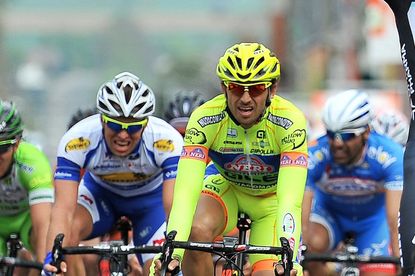 (Image credit: Watson)
Daniele Colli (Nippo-Vini Fantini) will file an official complaint against the fan that caused the Giro d'Italia crash in which the Italian broke two bones in his arm.
According to La Gazzetta dello Sport newspaper in Italy, he will present his case today to the local police in Grosseto, Tuscany, near Thursday's stage finish in Castiglione della Pescaia.
The Colli sprinted to try to win the sixth stage but at 250 metres he clipped a fan on the right side leaning out taking photographs. His fall caused a wave of crashes that involved race leader Alberto Contador.
German André Greipel (Lotto-Soudal) won the stage, Contador dislocated his shoulder and Colli broke his left arm.
"This person has to apologise to everyone," Colli wrote on Facebook. "He wasn't even watching the race."
Police reported that the fan is a 30-year-old man who owns a photography store on the Tuscan coast in Castiglione della Pescaia. He also had to visit the hospital due to injuries suffered.
"Don't expect a criminal case," Giro organiser RCS Sport said, according to the article. "We could eventually open a civil case for ruining the imagine of our race."
Colli remains in the hospital in Grosseto where he had an operation on his arm, which was hyper-extended in the crash.
"I had a long and painful operation which left me with some screws in my arm," he wrote. "It went well, even if I'm truly broken down and lacking strength."
It's another setback for the 33-year-old rider who had to have multiple surgeries to remove a benign tumour in his left leg in 2010.
>>> Fixie rider causes huge crash at Giro d'Italia (video)
"It's not acceptable to have a fan leaning out and taking photos like that in a sprint," Nippo sports director, Stefano Giuliani told Cycling Weekly.
"Crashes are apart of cycling, especially in sprints, but it shouldn't be caused by a fan. The same thing happened in Genoa. I feel sorry for Colli and everyone else."
The Giro d'Italia rolls on, today in its eighth stage. The next stage for Colli is recovery and seeking closure to the sprint disaster.
"He had his space and time to at least say sorry," said Colli. "I'm really sorry that he has not done so."
Thank you for reading 20 articles this month* Join now for unlimited access
Enjoy your first month for just £1 / $1 / €1
*Read 5 free articles per month without a subscription
Join now for unlimited access
Try first month for just £1 / $1 / €1