Giro d'Italia 2018 stage 16 time trial start times
Start times for all 161 remaining riders in the Giro d'Italia's stage 16 time trial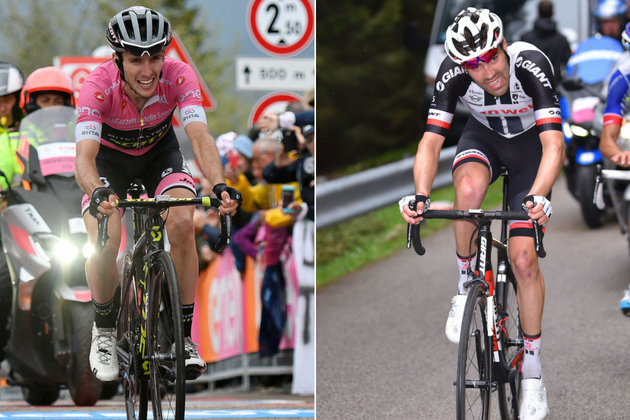 (Image credit: Yuzuru Sunada)
Stage 16 of the Giro d'Italia sees the riders face a crucial 34.2km individual time trial from Trento to Rovereto, which will go a long way to deciding the overall winner of the race in Rome on Sunday.
Despite taking place in the middle of the Alps the course sticks to valley roads and is pan-flat and with few corners, so should suit a powerful pure time triallist.
With race leader Simon Yates (Mitchelton-Scott) looking in unbeatable climbing form, this stage looks like the only chance for Tom Dumoulin (Team Sunweb) to gain time ahead of a mountainous final week.
>>> How much time will Tom Dumoulin take on Simon Yates in the Giro d'Italia time trial?
As time trial world champion, Dumoulin is the favourite for the stage, but will face stiff competition from specialist time triallists such as Tony Martin (Katusha-Alpecin) and Ryan Mullen (Trek-Segafredo) who haven't had to expend extra energy fighting for the overall.
As the last man in the GC, Giuseppe Fonzi (Wilier-Triestina) will be the first man down the start ramp at 13:20 local time (12:20 BST), with the top 10 starting at three minute intervals from 16:03.
Riders to watch
8. PEDERSEN Mads (Trek-Segafredo) 13:27:00
13. MULLEN Ryan (Trek-Segafredo) 13:32:00
21. CAMPENAERTS Victor (Lotto-Soudal) 13:40:00
33. DOWSETT Alex (Katusha-Alpecin) 13:52:00
45. KIRYIENKA Vasil (Team Sky) 14:04:00
49. VAN EMDEN Jos (LottoNL-Jumbo) 14:08:00
54. MARTIN Tony (Katusha-Alpecin) 14:13:00
97. DE LA CRUZ David (Team Sky) 14:56:00
151. DENNIS Rohan (BMC Racing) 16:00:00
155. FROOME Chris (Team Sky) 16:12:00
157. LOPEZ Miguel Angel (Astana) 16:18:00
158. PINOT Thibaut (Groupama-FDJ) 16:21:00
159. POZZOVIVO Domenico (Bahrain-Merida) 16:24:00
160. DUMOULIN Tom (Team Sunweb) 16:27:00
161. YATES Simon (Mitchelton-Scott) 16:30
Giro d'Italia stage 16 individual time trial start times (all times CET)
1. FONZI Giuseppe (Wilier-Triestina) 13:20:00
2. ZHUPA Eugert (Wilier-Triestina) 13:21:00
3. TUFT Svein (Mitchelton-Scott) 13:22:00
4. COLEDAN Marco (Wilier-Triestina) 13:23:00
5. SIMION Paolo (Bardiani CSF) 13:24:00
6. BERTAZZO Liam (Wilier-Triestina) 13:25:00
7. VAN POPPEL Boy (Trek-Segafredo) 13:26:00
8. PEDERSEN Mads (Trek-Segafredo) 13:27:00
9. HOFSTEDE Lennard (Team Sunweb) 13:28:00
10. SCHILLINGER Andreas (Bora-Hansgrohe) 13:29:00
11. SAGIV Guy (Israel Cycling Academy) 13:30:00
12. DEBUSSCHERE Jens (Lotto-Soudal) 13:31:00
13. MULLEN Ryan (Trek-Segafredo) 13:32:00
14. FRISON Frederik (Lotto-Soudal) 13:33:00
15. IRIZAR Markel (Trek-Segafredo) 13:34:00
16. VIVIANI Elia (Quick-Step Floors) 13:35:00
17. DOCKER Mitchell (EF Education First-Drapac) 13:36:00
18. SABATINI Fabio (Quick-Step Floors) 13:37:00
19. VAN ASBROECK Tom (EF Education First-Drapac) 13:38:00
20. BONNET William (Groupama-FDJ) 13:39:00
21. CAMPENAERTS Victor (Lotto-Soudal) 13:40:00
22. SENECHAL Florian (Quick-Step Floors) 13:41:00
23. DEMPSTER Zakkari (Israel Cycling Academy) 13:42:00
24. ROELANDTS Jurgen (BMC Racing) 13:43:00
25. BEWLEY Sam (Mitchelton-Scott) 13:44:00
26. MORKOV Michael (Quick-Step Floors) 13:45:00
27. DRUCKER Jean-Pierre (BMC Racing) 13:46:00
28. VAN POPPEL Danny (LottoNL-Jumbo) 13:47:00
29. TURRIN Alex (Wilier-Triestina) 13:48:00
30. CURVERS Roy (Team Sunweb) 13:49:00
31. MAESTRI Mirco (Bardiani CSF) 13:50:00
32. BELKOV Maxim (Katusha-Alpecin) 13:51:00
33. DOWSETT Alex (Katusha-Alpecin) 13:52:00
34. ROY Jeremy (Groupama-FDJ) 13:53:00
35. NOVAK Domen (Bahrain-Merida) 13:54:00
36. FRAPPORTI Marco (Androni-Sidermec) 13:55:00
37. ANDREETTA Simone (Bardiani CSF) 13:56:00
38. MOSCA Jacopo (Wilier-Triestina) 13:57:00
39. KUZNETSOV Viacheslav (Katusha-Alpecin) 13:58:00
40. VAN HOECKE Gijs (LottoNL-Jumbo) 13:59:00
41. BELLETTI Manuel (Androni-Sidermec) 14:00:00
42. HAMILTON Christopher (Team Sunweb) 14:01:00
43. KNEES Christian (Team Sky) 14:02:00
44. LINDEMAN Bert-Jan (LottoNL-Jumbo) 14:03:00
45. KIRYIENKA Vasil (Team Sky) 14:04:00
46. FERNANDEZ Ruben (Movistar) 14:05:00
47. SBARAGLI Kristian (Israel Cycling Academy) 14:06:00
48. BONIFAZIO Niccolo (Bahrain-Merida) 14:07:00
49. VAN EMDEN Jos (LottoNL-Jumbo) 14:08:00
50. LUTSENKO Alexey (Astana) 14:09:00
51. BOIVIN Guillaume (Israel Cycling Academy) 14:10:00
52. PLANCKAERT Baptiste (Katusha-Alpecin) 14:11:00
53. CAVAGNA Remi (Quick-Step Floors) 14:12:00
54. MARTIN Tony (Katusha-Alpecin) 14:13:00
55. BENEDETTI Cesare (Bora-Hansgrohe) 14:14:00
56. BENNETT Sam (Bora-Hansgrohe) 14:15:00
57. SEPULVEDA Eduardo (Movistar) 14:16:00
58. BAK YTTING Lars (Lotto-Soudal) 14:17:00
59. EG Niklas (Trek-Segafredo) 14:18:00
60. BARBIN Enrico (Bardiani CSF) 14:19:00
61. LAENGEN Vegard Stake (UAE Team Emirates) 14:20:00
62. PEDRERO Antonio (Movistar) 14:21:00
63. VENTURINI Clement (Ag2r La Mondiale) 14:22:00
64. VENTER Jaco (Dimension Data) 14:23:00
65. VENTOSO ALBERDI Francisco (BMC Racing) 14:24:00
66. VENDRAME Andrea (Androni-Sidermec) 14:25:00
67. GIBBONS Ryan (Dimension Data) 14:26:00
68. NIBALI Antonio (Bahrain-Merida) 14:27:00
69. MODOLO Sacha (EF Education First-Drapac) 14:28:0
70. NEILANDS Krists (Israel Cycling Academy) 14:29:00
71. LADAGNOUS Matthieu (Groupama-FDJ) 14:30:00
72. SCHMIDT Mads Wurtz (Katusha-Alpecin) 14:31:00
73. DIDIER Laurent (Trek-Segafredo) 14:32:00
74. STYBAR Zdenek (Quick-Step Floors) 14:33:00
75. MORABITO Steve (Groupama-FDJ) 14:34:00
76. QUINTANA Dayer (Movistar) 14:35:00
77. JUUL JENSEN Christopher (Mitchelton-Scott) 14:36:00
78. ROUX Anthony (Groupama-FDJ) 14:37:00
79. MARCATO Marco (UAE Team Emirates) 14:38:00
80. BERHANE Natnael (Dimension Data) 14:39:00
81. VILLELLA Davide (Astana) 14:40:00
82. JANSE VAN RENSBURG Jacques (UAE Team Emirates) 14:41:00
83. BALLERINI Davide (Androni-Sidermec) 14:42:00
84. CARTHY Hugh (EF Education First-Drapac) 14:43:00
85. MORI Manuele (UAE Team Emirates) 14:44:00
86. PUCCIO Salvatore (Team Sky) 14:45:00
87. VAN DER SANDE Tosh (Lotto-Soudal) 14:46:00
88. BOUWMAN Koen (LottoNL-Jumbo) 14:47:00
89. PLAZA Ruben (Israel Cycling Academy) 14:48:00
90. ARMEE Sander (Lotto-Soudal) 14:49:00
91. ZEITS Andrey (Astana) 14:50:00
92. VERVAEKE Louis (Team Sunweb) 14:51:00
93. FRANKINY Kilian (BMC Racing) 14:52:00
94. HAGA Chad (Team Sunweb) 14:53:00
95. CHAVES Esteban (Mitchelton-Scott) 14:54:00
96. DE MARCHI Alessandro (BMC Racing) 14:55:00
97. DE LA CRUZ David (Team Sky) 14:56:00
98. PFINGSTEN Christoph (Bora-Hansgrohe) 14:57:00
99. ATAPUMA Darwin (UAE Team Emirates) 14:58:00
100. DENZ Nico (Ag2r La Mondiale) 14:59:00
101. ELISSONDE Kenny (Team Sky) 15:00:00
102. TORRES Rodolfo (Androni-Sidermec) 15:01:00
103. BOARO Manuele (Bahrain-Merida) 15:02:00
104. DOMBROWSKI Joseph (EF Education First-Drapac) 15:03:00
105. GAVAZZI Francesco (Androni-Sidermec) 15:04:00
106. PANTANO Jarlinson (Trek-Segafredo) 15:05:00
107. BROWN Nathan (EF Education First-Drapac) 15:06:00
108. HANSEN Adam (Lotto-Soudal) 15:07:00
109. CATTANEO Mattia (Androni-Sidermec) 15:08:00
110. CAPECCHI Eros (Quick-Step Floors) 15:09:00
111. CICCONE Giulio (Bardiani CSF) 15:10:00
112. TEN DAM Laurens (Team Sunweb) 15:11:00
113. KREUZIGER Roman (Mitchelton-Scott) 15:12:00
114. BIDARD Francois (Ag2r La Mondiale) 15:13:00
115. HERMANS Ben (Israel Cycling Academy) 15:14:00
116. KING Benjamin (Dimension Data) 15:15:00
117. MEINTJES Louis (Dimension Data) 15:16:00
118. DE LA PARTE Victor (Movistar) 15:17:00
119. JAUREGUI Quentin (Ag2r La Mondiale) 15:18:00
120. LAMMERTINK Maurits (Katusha-Alpecin) 15:19:00
121. VISCONTI Giovanni (Bahrain-Merida) 15:20:00
122. MONTAGUTI Matteo (Ag2r La Mondiale) 15:21:00
123. HIRT Jan (Astana) 15:22:00
124. POLANC Jan (UAE Team Emirates) 15:23:00
125. BATTAGLIN Enrico (LottoNL-Jumbo) 15:24:00
126. GESINK Robert (LottoNL-Jumbo) 15:25:00
127. GROßSCHARTNER Felix (Bora-Hansgrohe) 15:26:00
128. SANCHEZ Luis Leon (Astana) 15:27:00
129. MOHORIC Matej (Bahrain-Merida) 15:28:00
130. CONTI Valerio (UAE Team Emirates 15:29:00
131. ULISSI Diego (UAE Team Emirates) 15:30:00
132. MASNADA Fausto (Androni-Sidermec) 15:31:00
133. HAIG Jack (Mitchelton-Scott) 15:32:00
134. BRAMBILLA Gianluca (Trek-Segafredo) 15:33:00
135. SCHACHMANN Maximilian (Quick-Step Floors)v 15:34:00
136. PREIDLER Georg (Groupama-FDJ) 15:35:00
137. DUPONT Hubert (Ag2r La Mondiale) 15:36:00
138. REICHENBACH Sebastien (Groupama-FDJ) 15:37:00
139. CHEREL Mikael (Ag2r La Mondiale) 15:38:00
140. ARU Fabio (UAE Team Emirates) 15:39:00
141. NIEVE ITURRALDE Mikel (Mitchelton-Scott) 15:40:00
142. GONCALVES José (Katusha-Alpecin) 15:41:00
143. HENAO Sergio Luis (Team Sky) 15:42:00
144. FORMOLO Davide (Bora-Hansgrohe) 15:43:00
145. WOODS Michael (EF Education First-Drapac) 15:44:00
146. POELS Wout (Team Sky) 15:45:00
147. GENIEZ Alexandre (Ag2r La Mondiale) 15:48:0
148. BETANCUR Carlos (Movistar) 15:51:00
149. OOMEN Sam (Team Sunweb) 15:54:00
150. O'CONNOR Ben (Dimension Data) 15:57:00
151. DENNIS Rohan (BMC Racing) 16:00:00
152. KONRAD Patrick (Bora-Hansgrohe) 16:03:00
153. BILBAO Pello (Astana) 16:06:00
154. BENNETT George (LottoNL-Jumbo) 16:09:00
155. FROOME Chris (Team Sky) 16:12:00
156. CARAPAZ Richard (Movistar) 16:15:00
157. LOPEZ Miguel Angel (Astana) 16:18:00
158. PINOT Thibaut (Groupama-FDJ) 16:21:00
159. POZZOVIVO Domenico (Bahrain-Merida) 16:24:00
160. DUMOULIN Tom (Team Sunweb) 16:27:00
161. YATES Simon (Mitchelton-Scott) 16:30