'I gave it everything': Tearful Simon Yates vows to come back stronger after losing Giro d'Italia pink jersey
Simon Yates vows to come back stronger after Giro disappointment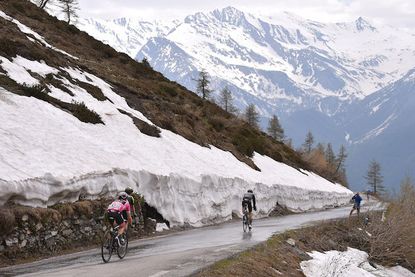 (Image credit: Tim de Waele/Getty Images)
Simon Yates (Mitchelton-Scott) may have finished the 19th stage to Jafferau wearing the Giro d'Italia's pink jersey, but will not be in it in Rome after having a disastrous day in losing nearly 40 minutes on the penultimate day in the mountains.
Yates fell behind on the Colle delle Finestre climb and never recovered. His 28-second lead over Tom Dumoulin (Team Sunweb) ended up being a 35-42-minute deficit on new race leader Chris Froome (Team Sky).
"I was extremely exhausted and I gave everything thing today," a tearful Yates told journalists at the finish line
Yates had dominated the first two weeks of the race, spending 13 days in the race leader's pink jersey and winning three summit finish stages in the mountains. However on Thursday, on the stage to Prato Nevoso, he showed signs of weakness which were pounced upon by his rivals on stage 19.
>>> Chris froome moves into the Giro d'Italia pink jersey after stunning 80km break to take stage 19 win
Mitchelton-Scott assured followers that the Brit's stage 28-second loss in stage 18 was just a one-off after Yates had dominated the rest of the race, with the rider himself saying that he felt OK at the start in Venaria Reale.
"At the start, no, I had no indication. I was just really tired and extremely exhausted," he continued.
Watch: Giro d'Italia 2018 stage 19 highlights
The 184km stage climbed the Colle del Lys before, on the Finestre climb with Sky riding pace for Froome, Yates drifted off theback.
"That's bike racing unfortunately, that's it," Yates explained. "I tried to manage [my losses when Froome went], but then it was blowing out really quickly and I had nothing to give. I'm just really really exhausted and that's how it is."
>>> Five talking points from stage 19 of the Giro d'Italia
The 25-year-old finished sixth in the 2016 Vuelta a España and seventh in the 2017 Tour de France with the white jersey of young leader. After his ride so far in the Giro it seemed that he would ride into Rome with the pink jersey on Sunday.
"After the time trial, I've not recovered since then. There's been some poker face until today," Yates revealed. "That was the hardest day of my life. But I'll be back. I'll be back to win some day.
"I don't have any regrets. Like I said yesterday, nobody would have betted on me to win the Giro at the start. I'm very proud of what I've done."
>>> Dave Brailsford reveals Team Sky's meticulous plan to set up Chris froome's incredible solo breka at the Giro d'Italia
Yates, however, would put his money on his fellow Brit Froome to win the Giro on Rome on Sunday even if he pays for his 80km solo break on Saturday's tough mountain stage.
"Tomorrow is a very difficult day," Yates said. "I think he will be able to hold onto the jersey now, but he will be hurting from the effort today."
Thank you for reading 20 articles this month* Join now for unlimited access
Enjoy your first month for just £1 / $1 / €1
*Read 5 free articles per month without a subscription
Join now for unlimited access
Try first month for just £1 / $1 / €1