Le Mevel goes on attack for Giro's pink jersey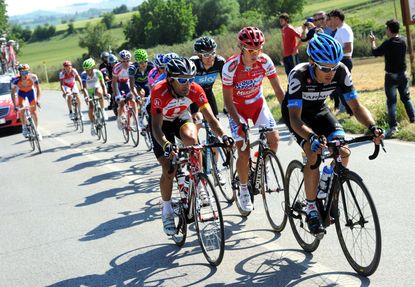 Christophe Le Mevel was the only one of the top classification riders to try to gain time in today's Giro d'Italia leg to Castelfidardo. The Frenchman attacked leader Alberto Contador, gained enough time and held the virtual pink jersey.
"It was a great move, that's what bike racing is all about," Garmin-Cervélo team-mate, David Millar told Cycling Weekly. "Christophe's got panache, he showed that today."
Contador's group caught Le Mevel in the final 10 kilometres of the 144-kilometre run through Italy's Le Marche region.
"I really want this pink jersey but this pink jersey does not want me," Le Mevel told journalists. "I've come close. I've been trying every day."
Mark Cavendish (HTC-Highroad) will take his turn in a sprint stage tomorrow to Ravenna and the overall favourites will fight for the lead in the next three mountain days.
"The days Contador and [Vincenzo] Nibali," added Le Mevel, "will be winning the jersey."
Le Mevel attacked from Contador's group at 64 kilometres to race and, in a group with 10 others, gained up to 2'00". He had started the day 1'19". Though he collected four seconds in an intermediate sprint, he lost 13 seconds on the final ramp into Castelfidardo - a net loss of nine seconds.
"Saxo Bank was happy to let me get the jersey," Le Mevel continued, "but the others behind are still fighting for the podium."
"That's our style of racing as a team at the moment," Millar added. "I want it to continue like that, I don't want us to just sit and follow, and race for places. He could have just as easily been in the pink jersey right now."
Millar rocketed out of the group yesterday in the final three kilometres and tried to join the escape today. However, he rode too fast into a corner while bridging and crashed on his right side.
"I was feeling great, flying, I was in every move at the beginning," Millar said. "Yesterday, too. Today, I covered everything, until the one that Christophe went in, but that was kind of how I wanted it."
He indicated his ribs hurt, did not believe they were fractured and may have them examined later. Team-mate Le Mevel will examine the overall standings tonight, which shows he slid to fourth, 1'28" behind Contador.
Giro d'Italia 2011: Latest news
Giro fines Contador for missing press conference
Cavendish responds to 'team car' accusations at Giro
Giro d'Italia News Shorts (May 15)
Giro's Sicilian cyclists proud to face Mount Etna
Contador surprises at Giro with attack ahead of mountains
Contador minds food at Giro as CAS decision nears
Weening supported by Rabobank and model Kroes
Local lad Appollonio bears fruit in Fiuggi
Giro d'Italia News Shorts (May 12 edition)
Blythe finding way in second Grand Tour
Leopard-Trek withdraws from Giro d'Italia
Leopard-Trek uncertain to continue in Giro
Tuesday's Giro stage in memory of Weylandt
Giro doctor describes actions to save Weylandt
Wouter Weylandt killed in Giro crash
Giro news shorts (May 8)
Cavendish likely to take Giro lead tomorrow
Giro 2011: Who will win?
Kennaugh to lead Team Sky in Giro's opening stage
Nibali's Giro fight with Contador may reach the courtroom
Riis defends Contador's participation in Giro
Cavendish set to start winning again at the Giro
Doping investigations force cyclists out of Giro d'Italia
Kennaugh replaces Pauwels in Sky's Giro line-up
Contador scouts out the Giro mountains
Cavendish and Millar top list of Giro-bound Brits
Lampre likely for Giro despite doping investigation
Giro announces record 23 teams to race
2011 Giro to start in Turin with team time trial
Giro goes one up on the Tour with spectacular route
Nygaard, Sciandri and Lloyd comment on 2011 Giro route
Nibali's Giro d'Italia?
Giro d'Italia 2011: Stage reports
Stage 11: Gadret grabs dramatic stage win
Stage 10: Cavendish opens his Giro account
Stage nine: Contador storms Etna to take Giro lead
Stage eight: Gatto springs late attack to take win
Stage seven: Neo-pro De Clercq wins by a whisker
Stage six: Ventoso steals Giro stage six win
Stage five: Weening holds on to take stage and maglia rosa
Stage four: Tearful Farrar and Leopard-Trek lead riders across stage four finish line
Stage three: Vicioso victory overshadowed by Weylandt crash
Stage two: Petacchi wins as Cavendish takes lead
Stage one: HTC-Highroad wins Giro's opening team time trial
Giro d'Italia 2011: Photo galleries
Stage 10 photo gallery by Graham Watson
Stage nine photo gallery by Graham Watson
Stage eight photo gallery by Graham Watson
Stage seven photo gallery by Graham Watson
Stage six photo gallery by Graham Watson
Stage five photo gallery by Graham Watson
Stage four photo gallery by Graham Watson
Stage three photo gallery by Graham Watson
Stage two photo gallery by Graham Watson
Stage one photo gallery by Graham Watson
Giro d'Italia 2011: Live text coverage
Giro d'Italia stage 11 live text updates
Giro d'Italia 2011 stage seven live text updates
Giro d'Italia 2011 stage five live text updates
Follow the 2011 Giro d'Italia live with Cycling Weekly
Giro d'Italia 2011: Start list
Giro d'Italia 2011: Start list
Giro d'Italia 2011: TV schedule
Giro d'Italia 2011: British Eurosport TV schedule
Related links
Giro d'Italia 2010: Cycling Weekly's coverage index
Thank you for reading 20 articles this month* Join now for unlimited access
Enjoy your first month for just £1 / $1 / €1
*Read 5 free articles per month without a subscription
Join now for unlimited access
Try first month for just £1 / $1 / €1